Women who've accused Trump of sexual assault demand bipartisan investigation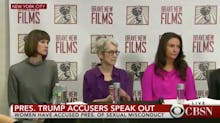 Three of the 16 women who have come forward to accuse President Donald Trump of sexual assault and harassment are speaking out again, demanding that Trump face a bipartisan investigation over their allegations.
The three women — Samantha Holvey, Jessica Leeds and Rachel Crooks — held a news conference on Monday in New York to ask for the investigation, as well as to remind the country of the allegations against Trump in light of the spate of sexual harassment scandals to break in the months since the election.
"They have investigated other Congress members, so I only think it stands fair that he be investigated as well," Holvey, a former Miss USA contestant who accused Trump of treating other contestants as "sexual objects," said at the news conference in New York. "And I think also a nonpartisan investigation is very important, not just for him but for anybody that has allegations against them. This isn't a partisan issue — this is how women are treated every day."
During the news conference, the women again detailed their allegations against Trump.
Leeds spoke about how Trump groped her on an airplane in the 1980s, putting his hand under her skirt.
"That was the last time I wore a skirt traveling," Leeds said of the incident.
Crooks, who was a receptionist at Trump Tower, says Trump forcibly kissed her on their first meeting.
"About 12 years ago, as a young receptionist in Trump Tower, I was forcibly kissed by Mr. Trump during our first introduction," Crooks said. "Mr. Trump repeatedly kissed my cheeks and ultimately my lips in an encounter that has since impacted my life well beyond the initial occurrence, and feelings of self-doubt and insignificance I had."
The White House — which has condemned all of the women as liars — again attacked them Monday over their allegations, and claimed that their accusations were "totally disputed in most cases by eyewitness accounts."
White House press secretary Sarah Sanders was asked during Monday afternoon's press briefing to provide proof of the eyewitness accounts, but couldn't come up with any from the podium.
"The timing and absurdity of these false claims speaks volumes and the publicity tour that has begun only further confirms the political motives behind them," the statement read.
Asked again about the accusers during the briefing, Sanders said Trump's win in the 2016 election means the issue is over.
"The American people knew this and voted for the president, and we feel like we're ready to move forward," Sanders said.
Dec. 11, 2017, 2:42 p.m.: This article has been updated.