If you live in one of these 36 states, you might have a harder time getting wine sent to your door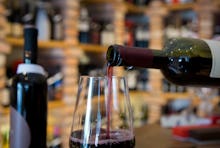 You can order any number of clothes, kitchen gadgets, books and more at online retailers like Amazon. But when it comes to sending wine to your aunt and uncle in Oklahoma? Things get complicated.
Each state has different laws surrounding shipments of alcohol, which means radically different regulations around packages of wine, spirits and liquor. Three states — Alabama, Oklahoma and Utah — explicitly prohibit shipments of alcohol to consumers, according to the National Conference of State Legislatures. (So your loved ones in Alabama won't get to enjoy California reds unless they buy them from an Alabama wine shop.)
Delaware allows out-of-state wine to be shipped to wholesalers and then distributed to consumers; and several states allow out-of-state wines to be shipped home if the consumer purchases the wine on-site at an out-of-state winery.
"When Prohibition was repealed [in 1933], each state was given control of their alcohol destiny," Paul Kalemkiarian, president of Wine of the Month Club, said in an email. "There are 50 states and 50 laws… each having their own nuance."
And recently, there's been a crackdown from FedEx and the United Parcel Service, too. According to the New York Times, these carriers are refusing out-of-state shipments of wine to consumers unless the consumers live in one of 14 state (or Washington, D.C.) that explicitly permits out-of-state wines. Out-of-state shipments are still permitted in the following areas:
• Alaska
That's not to say that customers in other states can't get mail-order wine — they can if the winery has their bottles delivered through a local retailer. But the maze of laws spells headaches for wine of the month club services, whose business depends on being able to ship bottles directly to consumers.
For a state like Massachusetts, Kalemkiarian's Wine of the Month Club partners with a Massachusetts-based retailer that sends the chosen wines to consumers once a month. When it comes to states like Montana or Illinois, the Wine of the Month Club ships wines to partnered retail stores than later use FedEx to send the wines to in-state customers.
The NPR Wine Club has a drop-down menu of states on its site. After this reporter selected New York, an explanation noted that a licensed retailer ultimately distributes the wines. A customer service agent explained that New York has laws about sending alcohol without an invoice so each shipment has a full invoice of the bottles even though a consumer often hasn't paid full price through the NPR Wine Club.
Each of the states has different taxes on wine, Kalemkiarian noted, explaining he employs one full-time staffer whose sole job is to know the shipping laws. "Some [states] want to be paid by the bottle, others by the gallon … even some by the percentage of alcohol," he said.
And then there are even more confusing bylaws for specific wineries to navigate. Jason Haas, partner and general manager at California-based Tablas Creek Vineyard, explained how complex the laws can be on the vineyard's blog in 2008. Though the laws may be slightly different 10 years later, his examples illustrate just how maddeningly different each state treats direct shipments:
Some [states] (like Arizona and Massachusetts) restrict us from shipping because we're too large. Some (like Louisiana and Indiana) prohibit wineries from shipping if they also have a relationship with a distributor in the state.  Some (like Kansas and Rhode Island) allow you to ship orders placed while the customer was on-site only. Others (like Hawaii and Connecticut) have such onerous reporting requirements that the business we could do does not justify the expense.
A new slate of wine clubs marketed to oenophiles in their 20s — like VineBox, a subscription service that sends wine by the glass in stylish vials, or Wine Down Box, a subscription that sends cheese, crackers and wine each month — are figuring out how to navigate these complex laws.
While NPR's site told consumers upfront whether the wine club delivers to their home state, VineBox and Wine Down Box have potential customers input their wine tastes, address and payment methods before revealing whether or not they can ship to them.
Why shipping laws remain complicated
There are several hoops that retailers and wineries need to jump through to get their goods in the hands of consumers who want them. And that's because wholesalers want to ensure that consumers go through wholesale as opposed to buying directly from a vineyard or wine club.
"Most state regulations are to protect the wholesalers of that state," Kalemkiarian said. Wholesalers give generous donations to politicians, too. In Alabama, for example, the Wine and Spirit Wholesalers of America gave a whopping $15.2 million to politicians over the span of 19 years, according to Follow the Money.
The strict laws are to the detriment of small-scale retailers, Hass noted.
"You might well ask how a really small winery, with little or no staff, can hope to navigate this labyrinth. ... Some small wineries have simply abandoned shipping to [some states], and therefore seen their market shrink rather than grow [from 2005 to 2008]," he said.