Gigi Hadid — and her glorious, hairy armpits — in the 2017 'Love' advent calendar sparks a debate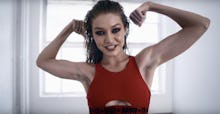 Since 2011, Love magazine has launched its own advent calendar in which every day of December brings a video of a different model doing something spectacular and sexy. On day two, we got Ashley Graham pulling a heavy object with the strength of her body, like an ox. (Don't ask.) On day three, we saw Emily Ratajkowski rolling around in spaghetti.
Now on day 11, we get Gigi Hadid showing off her hairy armpits. You read that right.
Hadid's video shows her working out in athleisure, punching the air and hitting a volleyball. Every time she raises her arms, we get a peek of dark stubble. At the end of the video, Hadid poses with her arms up, flexing, and says, "Stay strong."
For an annual video series meant to be about being sexy and alluring, the choice to show Hadid's armpit hair has sparked an online debate. There are the people who are grossed out by the show of natural, human hair and have commented on the Instagram video with things like, "ewwwww" and "Disgusting" and "Going to vomit now."
Then there are the defenders, who are writing back at critics with comments including, "That is the most natural thing and you think it's disgusting??" and "I love this. It's cool to see such a huge company normalize female body hair on such a famous model." Hadid has yet to comment herself.
While the debate over whether this is a good or bad thing rages, another is asking whether that's really Hadid's hair. We're in the camp that it is. However curiously, the makeup artist on this video, Hung Vanngo, responded to fans on his Instagram account saying that indeed, the hair is, "from the sweat & the dust of that building."
We're not totally sure what that means, but we will say that this display of body hair comes at a time when, as Mic previously reported, more women are discussing their options when it comes to shaving or waxing or doing neither. From women who've gone viral on social media for not shaving their legs to Paris Jackson speaking out about not shaving either, there's an open discourse that's showing women there's no one rule we all have to abide by one it comes to the hair sprouting naturally on our bodies.
Hadid's video is just adding to that.
You can see the Love video below: