Strategists believe — win or lose — Roy Moore will leave a stain on the GOP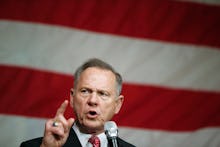 As voters head to the polls Tuesday for a special election in Alabama, strategists from across the political spectrum say that Roy Moore's scandal-fueled campaign could leave a lasting, dark mark on the Republican Party — no matter the outcome.
Republican nominee Moore is hoping to overcome allegations of child molestation to defeat Democratic nominee Doug Jones — which would keep the seat in Republican hands. However, a Moore win could actually be a loss for the GOP, in that it will hand Democrats a boogeyman to tie other Republican candidates to in the 2018 midterm elections.
"Should Moore win and be seated, it will be a gift to Democrats, as women will be furious and organize against the GOP," said Evan Siegfried, a Republican strategist who wrote GOP GPS, a book about how Republicans need to win over a more diverse coalition of voters.
"At the same time, Democrats would use Moore's victory as a brush to paint all Republicans," he adds. "Barring the Senate refusing to seat him, Roy Moore's win would be the Republican Party's loss."
"Should Moore win and be seated, it will be a gift to Democrats."
As recently as 2012, a similar problematic Republican candidate was an anvil on the GOP. It was five years ago when, Republican Todd Akin said women don't get pregnant from "legitimate rape." That comment not only sunk Akin's bid to try and oust Democratic Sen. Claire McCaskill in Missouri, but also weighed down other Republicans running in other states — playing into the Democrats' "war on women" narrative about the GOP.
Should Moore make it to the Senate, his scandals will provide Democrats plenty of fodder to go after Republicans as both parties begin to focus on the upcoming midterms.
Aside from being accused of child molestation, Moore is known for making other incendiary comments.
Moore is vehemently anti-LGBTQ, once declaring that homosexuality "should be illegal." He is also Islamophobic, once saying Rep. Keith Ellison (D-Minn.) shouldn't be a member of Congress because he's Muslim. And he also blamed the 9/11 attack on America distancing itself from God and suggested that the last time America was great was during slavery.
But even if he loses on Tuesday, the damage may be done to the party. Despite the credible child molestation allegations, President Donald Trump enthusiastically endorsed Moore, and the Republican National Committee spent money trying to boost Moore's candidacy.
Those moves have caused some high-profile Republicans to both distance themselves or resign from the GOP altogether. Sen. Jeff Flake (R-Ariz.) took the extraordinary step of donating to Moore's Democratic opponent.
And on Monday, RNC National Committeewoman Joyce Simmons resigned from the RNC over its support of Moore.
"I strongly disagree with the recent RNC financial support directed to the Alabama Republican Party for use in the Roy Moore race," Simmons said in a statement.
"There is much I could say about the situation, but I will defer to this weekend's comments by Senator Shelby," Simmons added, referring to the other Alabama Republican Senator who said this weekend that he couldn't and didn't vote for Moore. The "state of Alabama deserves better," Shelby had said.
Kurt Bardella, who used to be a spokesman for the conservative website Breitbart, said the RNC's embrace of Moore caused him to not only leave the Republican Party but join the Democrats.
"President Trump and the Republican National Committee are endorsing, supporting and funding Moore because they would rather elect a sexual predator who preys on underage teenagers at the local mall than a crime-fighting prosecutor who happens to be a Democrat," Bardella wrote in an op-ed in USA Today announcing his party switch. "This is not a party I want to be associated with any longer."
Polls suggest the contest is a toss-up, though Moore likely has a slight edge, given Alabama's strong Republican lean. It he takes it, it win would be a Pyrrhic victory.
"It's a Lady Macbeth kind of stain," Stu Rothenberg, a nonpartisan political analyst, said of a possible Moore win. "Yes, Democrats would run against him — and the GOP — for the next year."