As all eyes turn to Alabama's election, Doug Jones made a direct appeal to black voters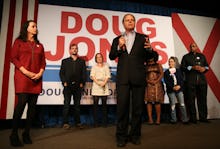 BIRMINGHAM, Ala. — An unseasonably cold evening cloaked Doug Jones as he exited his final rally before Election Day. Arm in arm with his wife Louise, Jones exuded a warm confidence about his chances Tuesday.
"Feeling great," Jones said less than 12 hours before the polls open. "How could you not feel great after that?"
"That" featured a rally with only black speakers, other than Jones, calling on Alabamians to vote in Tuesday's special election for the state's Senate seat. Jones, the Democrat, is in a toss-up race against embattled Republican Roy Moore.
Marvin Randolph, president of the Southern Election Fund, which focuses on organizing minority communities in the South, believes Jones needs black voters to make up as much as 30% of the electorate in Tuesday's voting. Jones also needs women who typically back Republicans to vote against Moore or stay home; Moore faces multiple allegations of sexual misconduct with minors, which could very well lead to the latter.
One poll released Monday showed Jones up 10 points, while another had Moore up nine points. Aware of the acute need to deliver Democratic voters, Birmingham Mayor Randall Woodfin urged the crowd of about 400 Jones supporters to push their neighbors, friends and family to vote.
"Special elections are all about turnout," said Woodfin, the 36-year-old black progressive who was inaugurated in November. "There is enough energy in the state of Alabama. There is enough energy in our 67 counties."
Organizers have swarmed communities across Alabama in search of Democratic voters, who have traditionally not voted or sat out nonpresidential elections. Black PAC, focused on organizing black communities to drive electoral change, has more than 400 staffers in Alabama working to bring black voters to the polls, Randolph said. His group works with Black PAC.
In Huntsville, Alabama, on Monday, members of the local chapter of progressive group Indivisible knocked doors in a working-class, predominantly black neighborhood.
"The last time this area was really organized was in the 2008 primary," said Slate Goodwin, a leader of the local Indivisible chapter. Goodwin knocked on doors Monday across the road from Alabama A&M University, a historically black university.
"We feel there are a lot of Democrats that aren't voting," Goodwin said about today's election.
On Monday night, 100 miles south at Jones' rally in Birmingham, former Auburn University and NBA star Charles Barkley put the election in stark terms for locals, particularly for blacks.
"At some point, we gotta stop looking like idiots to the nation — we're not a bunch of damn idiots," Barkley told his fellow Alabamians to cheers. The favorite son of Birmingham said Moore wants to push Alabama to return to roots that oppressed blacks.
"Only in Alabama could you send a white nationalist separatist who don't believe in race mixing, and he would be cheered three times at a Roy Moore rally," Barkley said. "It's time to draw a line in the sand and do the right thing."