Trump tweets that he's "never met" the women accusing him of sexual misconduct. That's a lie.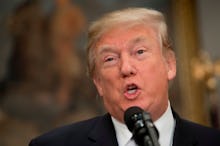 One day after a panel of women convened to discuss their already-public accusations of sexual harassment and assault against him, President Donald Trump took to Twitter to refute the allegations.
"Despite thousands of hours wasted and many millions of dollars spent, the Democrats have been unable to show any collusion with Russia — so now they are moving on to the false accusations and fabricated stories of women who I don't know and/or have never met," the president tweeted on Tuesday morning. "FAKE NEWS!"
During Monday's news conference, however, the three accusers told a different story.
Rachel Crooks, a former receptionist for a real estate company with offices in Trump Tower, accused Trump of forcibly kissing her on the mouth in 2005. Jessica Leeds recounted an incident where the president had allegedly tried to maneuver his hand up her skirt on an airplane. And Samantha Holvey, who was crowned Miss North Carolina in 2006, once again spoke of a time when Trump had entered the backstage area of the pageant he ran and unexpectedly asked to personally inspect the young contestants, who were in various states of undress.
"I just felt so gross," Holvey said during the conference. "Just looking me over like I was a piece of meat."
The women are not alone: At least 15 others have come forward to publicly accuse the president of sexual misconduct, with allegations ranging from nonconsensual kissing to groping their vaginas without permission.
Although Trump has dismissed each accusation as false without exception, his insistence that the claims come from "women who I don't know and/or have never met" contradicts previous statements from White House press secretary Sarah Huckabee Sanders. At Monday's press briefing, Sanders responded to a female reporter's question about the growing list of allegations against the president by saying that the White House would soon be putting out "multiple reports" of eyewitness accounts to contradict the accusations.
And aside from his own administration's claims that Trump has, in fact, been in the same room as at least some of the women, he has also been personally and professionally involved with others. The list of accusers, after all, includes a former contestant on his reality show, The Apprentice, as well as a reporter who once interviewed him.
In the wake of the post-Weinstein effect that has been toppling men in Hollywood and Washington like dominoes, the president is likely keen on distancing himself from the allegations as quickly as possible. But with the three accusers who spoke on Monday calling on Congress to investigate the accusations, he may well be dealing with them for some time to come.