What Alabama's Senate race could mean for the #MeToo movement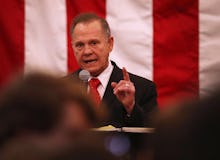 Welcome to Mic's daily read on Donald Trump's America. Want to receive this as a daily email in your inbox? Subscribe here.
Tuesday's dispatch: Alabama Senate race tests a new era
The final hours of the race for Alabama's Senate seat are upon us, and organizers for both candidates are out for a final push.
At a rally for Republican candidate and accused child molester Roy Moore, multiple supporters took the stage and made rather shocking comments.
First, Moore's wife, Kayla Moore, tried to combat allegations that she and her husband "don't care for Jews" by telling the crowd "one of our attorneys is a Jew."
The internet barely had enough to start meme-ifying her response before Bill Staehle, an old war buddy of Moore's, took the stage and told an anecdote about the time he and Moore went to a brothel full of underage sex workers in Vietnam. Moore declined to partake in sex with a minor, Staehle said.
Meanwhile, in the Doug Jones camp, celebrities like Emmy-winning Orange Is the New Black actress Uzo Aduba and Alabama native and NBA star Charles Barkley stumped for him — without making the same kind of salacious headlines.
Beyond the rallies, supporters of the campaign are hitting the pavement in a final push to get Jones elected.
Mic's Will Drabold reports from the ground in Alabama:
"The pulse among grassroots organizers in Alabama is electric. Those who are supporting Doug Jones' Senate campaign truly believe he has a shot to mobilize black voters at historic levels as Republicans stay home. In Huntsville, progressive activists knocked doors in a working-class black neighborhood across from a historically black university. One organizer said that area had received little attention from political campaigns since 2008," Drabold says.
The enthusiasm of Jones's supporters reflects the broader political moment taking place around the country. Two incipient movements in America — the progressive backlash to the Trump era, and the growing #MeToo movement — are combining forces to try keep Moore out of the Senate.
But what will it mean for those movements if Moore is elected?
On the political front, progressives will have lost every special election for Congress since Trump took office, but will also have a new villain in Washington to illustrate their case against the Trump agenda in 2018.
The #MeToo movement, which has successfully ousted predatory men in every industry from Hollywood to Congress to the restaurant industry, would have to deal with its first political rebuttal in 2017.
But that movement could also find itself emboldened to keep fighting, as it did after the election of President Donald Trump, despite multiple accusations of sexual harassment and assault against him.
Today's question: Would Roy Moore's election stunt the growing #MeToo movement or embolden it?
Please email us your thoughts at trumpsamerica@mic.com.
Tuesday in Trump's America:
An investigation for everyone: A new report claims Trump's legal team wants the Department of Justice to open a second special investigation into department officials accused of concealing their ties to Fusion GPS, the firm behind the infamous Trump-Russia dossier.
San Francisco's mayor dies: San Francisco Mayor Ed Lee died early Tuesday at age 65. Lee was the city's first Asian-American mayor. The cause of his death was not immediately released.
Escalation: Two Palestinians have been killed in an Israeli drone strike, amid the controversy over Trump's decision to move the U.S. Embassy in Israel to Jerusalem.
Rice takes on Moore: Former Republican secretary of state and Alabama native Condoleezza Rice seemingly took aim at Roy Moore in a statement to AL.com, telling voters to "reject bigotry, sexism and intolerance." Rice did not mention Moore by name.
Celebs support Jones: A host of celebrities from around the country are also taking to social media to voice their support for Jones. Uma Thurman, Connie Britton and Alyssa Milano are among the stars encouraging voters to support him.
Trump vs. Gillibrand: Trump took aim at Sen. Kirsten Gillibrand (D-N.Y.) on Tuesday morning, after she called on Trump to resign over sexual assault allegations.
"Lightweight Senator Kirsten Gillibrand, a total flunky for Chuck Schumer and someone who would come to my office 'begging' for campaign contributions not so long ago (and would do anything for them), is now in the ring fighting against Trump. Very disloyal to Bill & Crooked — USED!" Trump tweeted.
Under the radar:
Victory for equality: A federal judge told the Trump administration that it must allow transgender service members starting Jan. 1. The Trump administration had previously tried to continue Trump's transgender ban policy while it worked its way through the courts.
Voter suppression in Alabama: While the country has focused on the day-to-day events of the Alabama special election, the state's restrictive voting laws have gone largely undiscussed. The Huffington Post dives into Alabama's voter ID laws, its decision to close polling places and the disenfranchisement of people with some felony convictions.
Today's MicBite:
Here's the real reason behind Trump's double standard when it comes to confederate and Native American monuments.
Correction: Dec. 12, 2017