The many ways the fashion industry is actively resisting Donald Trump's presidency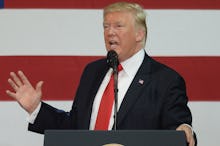 There's more than one way to resist Donald Trump's presidency, and fashion is showing us just that.Despite being notably ill-attired himself, there has perhaps been no other president who's affected the fashion industry more than Trump. His presidency has forced people in fashion to get political and take a side on issues like the travel ban and Trump's proposed ban on transgender military members.
From sounding off on social media and releasing public statements even sending money to organizations now in peril, fashion brands and designers have found a variety of ways to resist the Trump administration.
Here are some of them:
Vowing to take legal action
Patagonia
Immediately after Patagonia heard the news Trump would be dramatically shrinking two national monuments in Utah — Bears Ears and Grand Staircase-Escalante — it got to work.
The company first launched a dramatic, updated homepage that read: "The president stole your land." Clicking the "Learn more" button directed readers to a page that offered information on Trump's decision, what it means and related organizations to support.
Patagonia then announced it would file a lawsuit against the Trump administration.
"Native American tribes, environmental organizations and others, including Patagonia, will file several different lawsuits against the administration to protect the area," a Patagonia spokesperson wrote in an email to Mic.
Donating money
The North Face
While Patagonia looked to legal action to help protect these lands, the outdoor brand the North Face is helping contribute money to the cause. On its own homepage, the brand links to a Kickstarter fundraiser for Bears Ears Education Center, to which it pledged to donate $100,000.
Releasing statements and writing letters
Nike, Under Armour and Adidas
After Trump announced in June his plans for the U.S. to exit the Paris climate agreement, Nike, Under Armour and Adidas issued public statements condemning the decision.
"We are deeply disappointed by the recent shift in climate policy," Nike wrote. "Nike believes that climate change is a serious global threat and that the world will need to radically redesign industrial systems and economies in order to enable a low-carbon growth economy."
Adidas' statement read: "Guided by our core belief that through sport, we have the power to change lives, we see sustainability as an obligation to do business in a responsible and sustainable way."
In addition to speaking out against the Paris decision, Under Armour denounced the president's travel ban. "We are against a travel ban and believe that immigration is a source of strength, diversity and innovation for global companies based in America like Under Armour," the brand wrote in a statement.
REI, the North Face and L.L.Bean
In August, executives at outdoor retailers REI, the North Face and L.L.Bean came together to submit a letter directly to Interior Secretary Ryan Zinke asking him to protect national monuments and public lands.
After Trump officially announced his decision on Utah's national monuments, REI released another statement via its homepage: "REI will not retreat from our strong belief that there is common ground in the outdoors. We will continue to pursue bipartisan support to protect public lands and prevent death by a thousand cuts. REI members can be assured that we will honor our shared passion for our public lands, dedicating time and resources to leaving them healthier for future generations."
Refusing to dress or sell to Trump family members, supporters
There have been several designers — including Marc Jacobs, Derek Lam and Phillip Lim — who have sworn not to dress the Trump family. Naeem Khan, who has been one of the more outspoken designers, told the Associated Press before the inauguration that dressing the Trumps didn't feel right.
"A designer is an artist and should have the choice of who they want to dress or not," Khan said. "[Melania Trump] might be a great person for all we know, [but] the values of this administration do not comply with the values of who I feel we are as a nation."
Tom Ford
Similarly to Khan, Tom Ford made it clear even before Trump's inauguration that he didn't think anyone in the Trump family should wear his clothes, in part citing their affordability — or lack thereof.
"I think that whoever is the president or the first lady should be wearing clothes at a price point that [is] accessible to most Americans and ... made in America," Ford told Elle. "My clothes are made in Italy. They're very, very expensive. I don't think most women or men in our country can relate to that, and I think the first lady or the president should represent all people."
During an appearance on The View in November, Ford also said he had turned down an opportunity to dress Melania Trump years ago. "I was asked to dress her quite a few years ago and I declined," he said. "She's not necessarily my image."
Illamasqua
Almost immediately after Trump was sworn in, makeup brand Illamasqua created an anti-fascism pledge for customers and asked anyone who didn't agree with those values to refrain from buying its products.
"We will never knowingly sell our products to people who support President Trump's values," Illamasqua founder Julian Kynaston wrote. "To be part of our community and to buy our products, you must first pledge to human fundamentalism values." 
Leaving White House councils
Under Armour
After Trump failed to condemn the white nationalists who marched in Charlottesville, Virginia, Under Armour CEO Kevin Plank left Trump's American Manufacturing Council, saying his company "engages in innovation and sports, not politics."
"I love our country and our company and will continue to focus my efforts on inspiring every person that they can do anything through the power of sport which promotes unity, diversity and inclusion," Plank, who had previously praised Trump for being "pro-business," said in a statement at the time.
Speaking out on social media
Christian Siriano
With every dramatic turn of this presidency, Christian Siriano is one of those designers you can count on to voice his opinion. On Twitter, Siriano regularly retweets political posts having to do with the day's hottest topic, whether that be the Republican Party's continuing support for Roy Moore or the Women's March.
Siriano has also said he has no intention of dressing the Trumps.
"I want to say it doesn't really have much to do with [Melania], but sadly it kind of does because she has a voice," Siriano said in an interview with Mic in April. "Michelle Obama was one of the most outspoken first ladies we've ever had. And Melania, well, doesn't speak. That's just a problem. Since she agrees with the political climate, then it wouldn't make any sense for any designer to support her, whether they're gay or a woman. Someone who has immigrants in their office, it just wouldn't make sense. That's just unfortunately how it is." 
Khan, again
Along with refusing to dress members of the Trump family, Khan, an immigrant from India, offered a pointed message on social media regarding Trump's proposed immigration ban.
"I am the immigrant that brings beauty to make you shine," he wrote on Instagram. "I am the immigrant that is woven into the fabric of America. I am the immigrant that loves this country as all your ancestors who were immigrants. America, look deep and stand for who is patriotic, our values and not for a pompous, self-promoting, racist snake-oil salesman. Think and act."
Using fashion itself to show resistance
Reebok
Shortly after Sen. Mitch McConnell (R-Ky.) used the words "Nevertheless, she persisted" to describe Sen. Elizabeth Warren's (D-Mass.) effort to give a speech against Jeff Sessions' confirmation as attorney general, Reebok saw its chance to take a stand and released its own "Nevertheless, she persisted" T-shirt.
"We watched this week as our own state['s] senator was 'silenced' by her critics for doing her job," Dan Mazei, a senior director at Reebok, said in an email. "As dismayed as we were, we were also reignited by the rallying cry of 'nevertheless, she persisted.'"
Pins at New York Fashion Week
At 2017's fashion weeks in New York, audience members, reporters and designers wore pins that took jabs at the Trump administration. In February, the Council of Fashion Designers of America teamed up with Planned Parenthood to pass out pins reading "Fashion Stands with Planned Parenthood" to NYFW attendees to help raise funds and awareness.
America Civil Liberties Union ribbon pins were passed out in September.
"Fashion for ACLU was born out of the fashion community's sense of urgency to stand up for American civil liberties that are at risk today," Kristine Keller, associate director of strategic partnerships at the CFDA, said in a statement to Mic. "Given the engagement and awareness that CFDA's partnership with Planned Parenthood created, we knew that we had a platform, especially during NYFW, to promote the work that the ACLU is doing."