Rihanna proves she is the only truly good customer service representative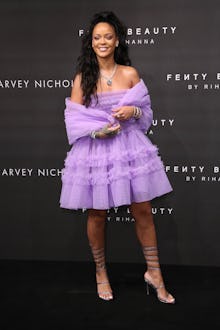 Fenty Beauty doesn't really need actual, professional customer service representatives, because Rihanna's doing the job just fine. No, really.
Since the launch of Fenty Beauty in September, Rihanna has gotten a few things very right. Inclusivity for one, with makeup crafted to look good on a variety of skin shades and customer service, of all things, for another.
You see, unlike many other celebrities with beauty brands (*cough* Kylie Jenner *cough*), Rihanna has taken to addressing her fans' concerns about her makeup line directly via messages on social media. But rather than giving them vague, blanket statements, she makes things personal with a certain, let's call it, Rihanna je ne sais quoi.
An example of this came yesterday, after Rihanna announced on her Instagram that her Fenty Beauty foundations were finally getting restocked.
In response to the post, one snarky fan wrote "Girl 6 months later" (which is untrue, because Fenty launched in September, but anyway) to which Rihanna herself issued a (very real, we checked) response that reads: "Sis. We overstocked for four months plus, but what can I do errbody luh da kid?! ... Also what's yo shade sis?"
A truly beautiful moment and also a valid question, which the initial poster has not yet answered.
Moving on, just a week ago, Rihanna's customer service expertise struck again when a fan came to Rihanna similarly concerned about Fenty Beauty. Writing to her in a Twitter direct message, Twitter user @lbertootero asked her why she hadn't cast any out transgender models yet in her Fenty Beauty campaigns.
To that, Rihanna wrote back a long, thoughtful response.
"I've had the pleasure of working with many gifted trans women throughout the years, but I don't go around doing trans castings!" she wrote. "Just like I don't do straight, non-trans women castings! I respect all women, and whether they're trans or not is none of my business!"
"It's personal and trans women are more comfortable being open about it than others so I have to respect that as a woman myself!" she continued, emphatically. "I don't think it's fair that a trans woman, or man, be used as a convenient marketing tool! Too often do I see companies doing this to trans and black women alike! There's also just that one spot in the campaign for the token 'we look mad diverse' girl/guy!"
Rihanna's right about that tokenization of transgender models in the industry, too.
These acts of truly good and pure engagement with her customers comes as Rihanna's also creating an empowering, kind makeup community on the internet. Often, Rihanna engages directly with certain Fenty fans who need her support — whether it's a woman who doubted that she could pull off red lipstick because of the size of her lips or a woman with albinism who finally found her foundation shade because of Fenty Beauty — on Instagram.
"I feel like it's Rihanna's vibe," Grace Boye, the woman who doubted wearing red lipstick before Rihanna's encouragement, told Mic in an email. "I feel that Rihanna had a goal to make women feel empowered in their own skin. I see that now and I know the other woman see it also, and I love her for that."
Between being a truly empowering force in the beauty industry and being a phenomenal customer service rep, is there anything Rihanna can't do?