2017: The year that everyone had sex on screen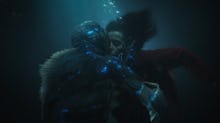 The American public has lost that lovin' feeling. United States citizens have been on something of a dry spell since the 2016 presidential election, according to a study from sex toy company Unbound. Thirty-four percent of respondents claimed they were having less sex since November 2016, and 18% said they're enjoying sex less. The internet is littered with articles like "After the Election, I Lost My Sex Drive" and "My Libido: The First Casualty of Trump's Election." Broad City dedicated a recent episode to Ilana's quest to get her groove back after the constant horrors of the Trump administration leave her unable to achieve orgasm. As electronic musician Fever Ray so adroitly put it on this year's superlative Plunge, "This country makes it hard to fuck."
Surveying the year in film, however, you'd never know it. Because in spite of deeply unsettling real-world woes and some truly horrifying allegations behind the scenes in Hollywood, 2017 saw a richly diverse array of sexual expression on the big screen. While TV leaned harder than ever on the time-tested formula of "a regular thing, but make it hot" to give us Hot Archie and Hot Shakespeare and Hot Einstein, the movies mapped much more thrilling and revelatory terrains of sexuality. In a year of unprecedented anxiety and unease throughout the culture, cinema took a roundly celebratory attitude toward sex as a life force.
As feminist concepts of sex positivity seeped into the mainstream from academia, art responded in kind by extending a new generosity toward its characters' physical needs. Luca Guadagnino's swooning romance Call Me By Your Name and Malcolm D. Lee's paean to black womanhood Girls Trip share more than a predilection for the supple flesh of fresh fruit. The moviegoing public will likely never look at a peach or a grapefruit the same way ever again, and yet the hysterical tone (played slight in the former and over-the-top in the latter) of both erotic set pieces speaks to the intensity of an undernourished libido.
Guadagnino's film situates itself at that exhilarating juncture of adolescence where a teenager first gains access to depositories for their vast, churning reservoirs of lust. Lithe young Elio (Timothée Chalamet) projects sex in every direction, at partners both male (Armie Hammer as the strapping second lead, Oliver) and female (Esther Garrel as a mismatched crush). The peach that he furtively violates has simply gotten caught in his hectic ejaculatory crossfire.
Likewise, Girls Trip posits sex as one of multiple paths to self-actualization, a recharging of the mojo's batteries. When the film joins her, Lisa (Jada Pinkett Smith) hasn't gotten laid in the two years since she and her man got divorced. She has some trepidation about getting back out there at first, but once she ditches her baggage and has a restorative dalliance with a well-hung coed, she's right as rain. Laughter may be the best medicine, but a good romp turns out to be a close second. In both instances, denying the self of pleasure creates an unhealthy emotional backup for which sex provides an essential release.
The tender documentary Dina tracked the fraught courtship between two developmentally disabled adults as they make tentative steps toward romantic maturity and self-sufficiency. In an attempt to unsaddle themselves from some of their baggage, they gently and frankly discuss sex — what they feel comfortable doing, what frightens them — for the film's most intimate moment. What crueler films might treat as a punchline, Dina marvels at as a small miracle.
This year's libertine streak of openness allowed cinema to explore bold new frontiers of love and desire as well. The intersection of technology and human sexuality has expanded in leaps and bounds as the burgeoning field of teledildonics comes into its own (pun very much intended). As if in response, the movies have paused to consider the implications of programming our own wanting. Two films extended the work of 2013's Her, revealing the potential and limits of developing a meaningful relationship with a computer program.
Michael Almereyda's cunning indie Marjorie Prime makes use of holograms to put a stopper in death by preserving consciousnesses in AI projections of lost loved ones. Philosophical sci-fi opus Blade Runner 2049 gave Ryan Gosling's K a computerized wife in the shape of Ana de Armas; in the film's most affecting and thoughtful scene, he makes love to her by layering her non-corporeal form over the body of an obliging prostitute, who serves as a surrogate.
Both films recognize that some crucial component has to be missing from one's interpersonal experience when investing feeling in an automaton. For K, that's the basic comfort of a touch, and for Marjorie, the ability to form original thought not implanted by a creator. But those movies are still willing to seriously regard an unconventional configuration of attraction, and that's not the half of it.
Whether surreal or arrestingly human, the parameters of what the camera was willing to consider worthy of desire widened dramatically. Rihanna triggered an entire generation's erotic coming-of-age in her performance as a gelatinous shapeshifting alien that cycles through a series of typical fantasy roles during a striptease in Valerian and the City of a Thousand Planets. Professor Marston and the Wonder Women portrayed a polyamorous relationship between three consenting adults as the most natural thing in the world, an Edenic union too pure for this compromised world.
Not one, but two films from this year revolved around the forbidden passions between a human and an amphibious humanoid, and mined substantive insights from their coupling. Agnieszka Smoczynska's The Lure refashioned Hans Christian Andersen's The Little Mermaid as a grimy horror-musical with feminist fangs, testing how much two blushing mermaids are willing to sacrifice for their human boy-toys.
Getting hot is the entire raison d'etre for Guillermo del Toro's ravishing new The Shape of Water, each character individually illustrating sexual frustration. Sally Hawkins does indeed fuck the fish-man, but her closeted best pal (Richard Jenkins) struggles to find a kindred while a work chum (Octavia Spencer) feels unvalued in her own marriage. When a body goes untouched, it shrivels like a finger in the bathtub where Hawkins' character mechanically masturbates as another part of her daily routine.
Del Toro treats the yearning between Hawkins and her amphibious paramour with dignity and respect, positing that the meaningful parts of their relationship (patience, caring, understanding) have nothing to do with biology. This free sexual diversification promotes the broader idea that who a person chooses to smush their parts against is none of the greater public's business and, furthermore, that that part-smushing is a beautiful thing.
The old "love is love" rhetoric comes off as an easy, empty sentiment when applied to something as urgent and complex as real life, but the adoption of this attitude at cinemas has been more heartening. Beyond the therapeutic qualities of unambiguous pleasure (what Peaches might refer to as the "fuck the pain away" principle), this doctrine of blanket tolerance speaks to changing attitudes regarding the plethora of sexual identities apart from heterosexuality.
Robin Campillo's French export BPM is a film about dying — a lightly fictionalized history of ACT UP's Paris chapter in the '90s, right before the general populace got hip to the full scope of the AIDS epidemic — and about refusing to die. The cast of characters that pass by Campillo's camera, some people living with HIV and some not, push back against public disinterest in AIDS outreach through visible demonstrations of dissent like sit-ins and defacement of Big Pharm offices. But they also combat this plague simply by living, exuberantly and unapologetically.
Campillo's film draws a parallel between the more overtly politicized forms of resistance and the celebrations of life inherent to dancing and sex. The discotheque provides a safe refuge for gay, lesbian and queer characters, where they can afford to feel joyous and unbothered if only for a night. And the simple right to go to bed together is a small but significant part of what they're all fighting for.
The film laces protest, clubbing and coitus together with the leitmotif of the thumping beat mentioned in the title, whether that's a synth bass line or a heart's pulsating. The political and privately personal all get wound up in one defiant assertion of selfhood when Sean (Nahuel Pérez Biscayart), who is HIV-positive, and his new boyfriend make sexual contact for the first time. In a series of shots that are tasteful without being shy and respectful without being prim, the men perform oral sex on one another, making careful use of protection while remaining heated in their ardor.
Campillo luxuriates in the details of their bodies and how they interact, capturing every awkward little movement and miniature shudder. (Even in the midst of breathtaking intimacy, there's room for a little chuckle over the difficulty of angling one's body while sixty-nining.) If only for a couple of minutes, the audience can share in his adulatory gaze and understand how precious this all is — connection, sensation, the fact of being alive.
While the horrors of reality revealed just how commonly sex can be used as a trap, the kinder world of fiction offered it as sanctuary. Allowing a character to exult in getting turned on is an empathetic authorial gesture, a fleeting opportunity to let their stresses fall away and concentrate on the immediately gratifying. It's gotten cold out there; even at the multiplex, we can use the body heat.