Can Dennis Rodman build a bridge between Donald Trump and Kim Jong Un?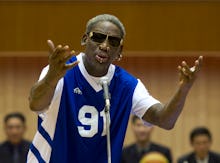 Call it basketball diplomacy.
Dennis Rodman, the former NBA star who has famously visited Pyongyang, North Korea, on multiple occasions, said Monday that he has a plan that will bring the United States and North Korea together — on the hardwood, at least.
According to the Los Angeles Times, Rodman plans to get a basketball game going between North Korea and Guam — a proposal that appears to be embraced by the head coach of the U.S. territory's team.
It's one of the stranger diplomatic proposals that have been floated recently as tensions on the Korean peninsula worsen, but it's not his first go at attempting to build a relationship between the two countries. He has made several trips to North Korea since 2013, and said that dictator Kim Jong Un is a "friend."
Another of his "friends"?
President Donald Trump, whose 2016 presidential campaign was endorsed by Rodman — a former contestant on the Celebrity Apprentice.
Here's what you need to know about the Worm's relationship with Kim — and with Trump:
Rodman and Kim: Friends for life
Rodman first went to North Korea in February 2013 with Vice reporter Ryan Duffy and several members of the Harlem Globetrotters — the first high-profile American celebrities known to have met with a North Korean leader.
Kim, who took over as leader of North Korea in 2011, is reportedly a big-time basketball fan, and particularly loved Rodman's team — the Chicago Bulls — in the 1990s.
The two sat sideline at an exhibition during that first meeting between American and North Korean players. After meeting, Rodman famously praised his new "friend," saying that the authoritarian ruler is beloved in his country and that he personally believed him to be "awesome."
"He's proud, his country likes him — not like him, love him, love him," Rodman said at the time. "Guess what, I love him. The guy's really awesome."
"You have a friend for life," he reportedly told Kim.
He called in a favor from his new friend for life just a couple months later, when he urged Kim to release Kenneth Bae — an American who was being held in North Korean on charges of attempting to overthrow the government.
Kim released Bae and another American, Matthew Todd Miller, late the following year, and Bae would eventually credit Rodman's freelance diplomacy for helping him get free.
But prior to Bae's release the former basketball player also suggested in a CNN interview about a January 2014 visit to the country for another round of basketball diplomacy — during which he sang "Happy Birthday" to Kim — that Bae was to blame for his own imprisonment.
He later apologized, saying that he had been drinking. He checked into alcohol rehab shortly after returning from the trip.
He didn't go back to North Korea until June 2017, when he dropped off gifts for Kim, including a copy of The Art of the Deal — the book by another of his friends, Donald Trump.
Rodman's friendship with Trump
Trump had praised Rodman after the Hall of Famer's first trip to North Korea.
Trump, then just a reality television host and bombastic real estate mogul, said in a Fox News interview at the time that "maybe Dennis is a lot better than what we have" — referring to U.S. diplomats.
"Dennis is not a stupid guy," Trump said. "He's smart in many ways; he's very street-wise."
Rodman had first appeared on Trump's reality program, the Celebrity Apprentice, in 2009. He returned to the show as a contestant in 2013, but was "fired" for spelling now-first lady Melania Trump's first name incorrectly during a challenge.
His second appearance on the show coincided with his first trip to North Korea.
"Our wild man Dennis Rodman, big in the news re North Korea, will be on and watching Celebrity Apprentice on Sunday night!" Trump tweeted in March 2013.
But Trump's tune on Rodman changed by the next year, when he condemned "Crazy Dennis Rodman" for suggesting he wanted to go to North Korea with him.
"Dennis Rodman was either drunk or on drugs (delusional) when he said I wanted to go to North Korea with him," Trump tweeted in May 2014. "Glad I fired him on Apprentice!"
Still, there didn't appear to be bad blood there for the Worm, who endorsed Trump's presidential campaign early in the race.
"[Trump] has been a great friend for many years," Rodman tweeted in July 2015. "We don't need another politician, we need a businessman like Mr. Trump! Trump 2016."
Many noted Rodman's endorsement and apparent friendship with Trump when he took his most recent trip to North Korea, which coincided with the release of American college student Otto Warmbier, and some even suggested that he may have been sent there by Trump — something both the administration and Rodman have denied.
But the Guardian reported Monday that Rodman has been lobbying the administration to make him an official envoy to North Korea, saying that he believes "a lot of people around the world … want me to go just to see if I can do something."
The administration had discouraged him from traveling to the country, however.
Rodman, who has described Trump and Kim as "pretty much the same" person, has urged the president to sit down with his North Korean counterpart.
But it's unclear if Trump would be amenable to that.
He and Kim have traded insults and threats for months, with the president saying he may have to "totally destroy" North Korea and the regime saying that an attack on the U.S. was "inevitable."
So, for now, Rodman is pushing for a basketball game in China between players from North Korea and Guam — the territory Kim has threatened to attack.
Rodman implied in a Sunday tweet that he was laying the groundwork for the game.
"Guess what's next?" Rodman tweeted with the hashtags #Peace, #Love and #NotWar.