Keaton's bullying video went viral — but we should talk about Ashawnty and Rosalie's stories, too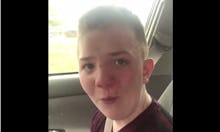 The viral video of 11-year-old Keaton Jones, a Tennessee boy who cried about bullying in a cell phone video recorded by his mother, took the internet by storm over the last several days.
Keaton's mother, Kimberly Jones, posted the video to Facebook on Friday, and support quickly poured in as it spread. Celebrities such as Justin Bieber sent him messages; actor Chris Evans invited the middle-schooler to the Los Angeles premiere of Avengers: Infinity War. Cleveland Cavaliers shooting guard J.R. Smith also invited him to a future NBA game. Joseph Lam started a GoFundMe fundraiser for Keaton that raised more than $56,000.
"I decided to do this GoFundMe to help with this child's future," Lam wrote. "I know that money may not be the answer for this problem that we are facing in our communities with bullying."
The online rallying in support of Keaton seemed like a heartwarming story, but then various social media users uncovered Jones' Facebook page, on which she made the following post Aug. 25: "If you aren't bleeding, no bones are sticking out [and] you can breathe, STOP crying! For the love, some folks clearly never picked a switch. And before y'all start talking to me about metaphorical, emotional, financial or historical blood and brokenness, don't. Join a group."
Kimberly Jones' Facebook page also featured screenshots of her family holding Confederate flags. Social media erupted in response to the posts, with many calling her — and her family — racist. Jones appeared on Good Morning America on Tuesday to respond to the criticism, maintaining that people should focus solely on the fact her child had been bullied.
"I feel like we're not racist. I mean, people that know us, know us," Jones said. "[The photo] was meant to be ironic and funny and extreme. I am genuinely, truly sorry. If I could take it back I would."
As this new information about Keaton's family began to surface, celebrities started highlighting the deaths of two other middle-schoolers, both recent victims of bullying who had died by suicide: Ashawnty Davis and Rosalie Avila. Rihanna and T.I., who had shown sympathy for Keaton, also shared their condolences for the girls' tragic deaths.
Ashawnty, a black fifth-grader from Aurora, Colorado, died by suicide in November after a video of her fighting an alleged bully was recorded and shared on the app Musical.ly. When Ashawnty found out the video was posted online, she was "devastated," her mother told KDVR.
Rosalie, who was 13 and from Yucaipa, California, also died by suicide in November after reportedly being bullied. In the months leading up to her death, Rosalie had been cutting herself and was teased about her braces by classmates in school and on social media, her father, Freddie Avila, said. "On the inside, it was just tearing her to pieces that they were always making fun of her," Avila told NBC News.
There are currently GoFundMe campaigns dedicated to Ashawnty and Rosalie, both of which are exceeding their fundraising goals.
Another bullying story that deserves more attention is that of Taylissa Marriott, 14, and her 14-year-old stepsister, Jayla Tolliver. The sisters, students at Yerington High School in Nevada, told the Reno Gazette Journal they have repeatedly been called racial slurs in school. On social media, seeing a threat of violence against black people in Lyon County left Taylissa and Jayla feeling unsafe in a school district where only 57 students are black. The teens and their families have asked district administrators and the police for help, but say nothing has happened yet.
All of these events have renewed conversations about whether white children and children of color who are victims of abuse or bullying experience the same level of support from celebrities and the public on social media.
Data shows bullying is an issue for children across socioeconomic and racial backgrounds, according to a December 2016 report by the National Center for Education Statistics. The survey, which included answers from kids in grades six through 12, found that middle-schoolers reported being bullied most. Thirty-one percent of sixth-graders surveyed said they experienced bullying, followed by 25.1% of seventh-graders and 22.2% of eighth-graders. Also, 22% of girls reported being bullied compared to 18.8% of boys.
These stories and statistics reiterate the fact that childhood and teen bullying is not to be taken lightly — and all kids, including children of color, deserve the same level of support from their communities.