Trump's innuendo-laden "sexist smear" about Sen. Kirsten Gillibrand sets off firestorm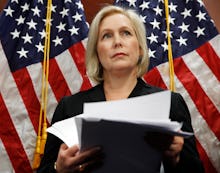 On Tuesday, President Donald Trump responded to a call by Sen. Kirsten Gillibrand (D-N.Y.) for his resignation by insinuating that senator had previously offered to sleep with him.
Gillibrand on Monday had called for Trump's resignation in response to a press conference held that morning by multiple women who claim to have been sexually harassed or assaulted by Trump in the past.
Trump this morning responded by attacking Gillibrand on Twitter for the comment during his daily morning cable news binge.
"Lightweight Sen. Kirsten Gillibrand, a total flunky for Chuck Schumer and someone who would come to my office 'begging' for campaign contributions not so long ago (and would do anything for them), is now in the ring fighting against Trump. Very disloyal to Bill & Crooked-USED!" Trump tweeted.
Gillibrand, who was reportedly attending a bipartisan bible study group when the president sent the tweet, called the insult a "a sexist smear."
She also responded with her own tweet, telling the president, "You cannot silence me or the millions of women who have gotten off the sidelines to speak out about the unfitness and shame you have brought to the Oval Office."
Many immediately picked up on the innuendo in Trump's parenthetical claim that Gillibrand would do "anything" for donations. Her fellow Democrat, Sen. Elizabeth Warren, jumped into the fray with a well-meaning attempt at support that misused the term "slut-shame" — generally defined as criticizing women for their transgression of accepted codes of sexual conduct.
Warren is no stranger to Trump's insults. Since the 2016 campaign, Trump has repeatedly referred to her as Pocahontas, because of her claim to Native American ancestry.
MSNBC's Morning Joe co-host Mika Brzezinski also called out Trump's innuendo, saying live on air that the president's comments were "reprehensible" and "disgusting."
"He's suggesting that Kirsten Gillibrand would have sex with him in order to get campaign contributions." Brzezinski said. "The president actually tweeted that this morning."
Rep. Eric Swalwell (D-Calif.) also made it clear that Trump's subtext was less than subtle. "We all know what he was trying to say" Swalwell said. "And it's beneath the office of the presidency for him to conduct himself that way."
Gillibrand was the first to call for Sen. Al Franken (D-Minn.) to step down after a series of sexual harassment allegations emerged against him. She also said on Nov. 16 that Bill Clinton should have resigned from the presidency over the Monica Lewinsky scandal.