Doug Jones pulls out a stunning win in Alabama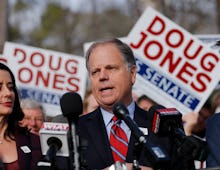 Democratic candidate Doug Jones pulled off a stunning victory in Alabama on Tuesday night, becoming the first Democrat to win a Senate race in the state in 25 years — but his rival Roy Moore refused to concede.
Jones defeated scandal-plagued Republican Roy Moore 49.6% to 48.8%, with 89% of precincts reporting, according to the Associated Press.
Alabama's seat opened when President Donald Trump appointed then-senator Jeff Sessions as his attorney general. Jones will now serve out the remainder of Sessions' term that expires in January 2021.
Jones' victory alters the partisan makeup of the Senate, winnowing the Republicans' already slim majority to just 51 seats. That smaller majority could make GOP efforts to pass Trump's agenda even tougher than it's been since his inauguration.
Jones appealed himself to voters by saying he wouldn't be an embarrassment and promising to be a bipartisan voice Alabamians could be proud of.
And in his victory speech, Jones made those same overtures.
"This entire race has been about dignity and respect," Jones said. "This campaign has been about the rule of law, this campaign has been about common courtesy and decency and making sure everyone in this state regardless of which zip code you live in is going to get a fair shake in life."
Moore, as of late Tuesday night, was not yet conceding, telling his supporters late that "it's not over." However, the Alabama secretary of state said on CNN that it's unlikely that there will be an outcome other than a Jones victory.
The idea of Jones winning was almost unbelievable when the race began. But that all changed after the Washington Post published a story in November in which a woman accused Moore of molesting her when she was 14.
Over the past few weeks, a number of Republicans have denounced Moore and called for him to drop out of the race, while other GOP senators said they'd vote to expel Moore from the Senate if he won the race.
Some GOP strategists feared a Moore win would be a political problem for the party in the 2018 midterms.
Still, Trump came out to endorse Moore's candidacy just eight days before the election, and the Republican National Committee injected a last-minute surge of cash to help Moore.
It looked like Moore may have been rebounding in the final weeks of the race, yet polls seemed to underestimate the amount of support Jones had.
Trump has now endorsed two losing candidates in this race.
In the primary, Trump backed Luther Strange — the Republican who was appointed to the seat. Yet Strange lost a primary runoff to Moore, and Trump tried to delete the evidence that he had backed Strange's candidacy.
Now, Trump has endorsed another losing candidate in the same contest.
Trump did, however, congratulate Jones for his win Tuesday night.
"Congratulations to Doug Jones on a hard fought victory," Trump tweeted. "The write-in votes played a very big factor, but a win is a win. The people of Alabama are great, and the Republicans will have another shot at this seat in a very short period of time. It never ends!"
Dec. 12, 2017 11:45 p.m.: This article has been updated.
Correction: Dec. 12, 2017