Live updates: Democrat Doug Jones wins Alabama Senate race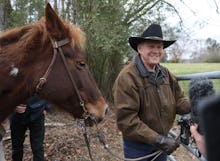 11:05 p.m.: Doug Jones delivers victory speech
Jones took to the stage to declare victory, thanking the people and volunteers who helped elect him, and declaring that Alabama has "shown the country the way that we can be unified."
"This entire race has been about dignity and respect," Jones said. "This campaign has been about the rule of law, this campaign has been about common courtesy and decency and making sure everyone in this state regardless of which zip code you live in is going to get a fair shake in life."
With that, we're ending this live blog. Thanks for following, and be sure to check back with Mic tomorrow for more analysis about what Jones' stunning win means.
10:46 p.m.: Republicans point fingers at Steve Bannon
Doug Jones' stunning win has Republicans looking to find someone to blame, and many have settled on former White House strategist Steve Bannon.
Bannon — who is looking to oust so-called "establishment" Republicans from Congress — endorsed Republican Roy Moore, and campaigned alongside him in the days leading up to the election.
And Republicans who are frustrated with Bannon's rabble rousing say Tuesday night's results should be a wake-up call for Bannon to end his crusade.
"This is a brutal reminder that candidate quality matters regardless of where you are running," Steven Law, president of the Senate Leadership Fund — a Super PAC with ties to Senate Majority leader Mitch McConnell — tweeted. "Not only did Steve Bannon cost us a critical Senate seat in one of the most Republican states in the country, but he also dragged the President of the United States into his fiasco."
Rep. Carlos Curbelo (R-Fla.) sent a scathing tweet blaming Bannon.
"Congratulations to the Bannon wing of the @GOP for gifting a seat to @SenateDems in one of the reddest states," Curbelo tweeted. "You have no future in our country's politics."
10:30 p.m.: Doug Jones is your next Senator from Alabama
Democrat Doug Jones has pulled out a stunning upset in Alabama, defeating Republican Roy Moore in a state that hasn't elected a Democrat to the Senate in 25 years.
10:20 p.m.: Steve Bannon is at Moore's election night party
Bannon, the former White House strategist who has been campaigning for Moore, is at Moore's election night party, a local news reporter tweeted.
But Bannon may not be happy with the results.
Jones has taken the lead, and the remaining votes all favor Jones.
The New York Times gives Jones a greater than 95% chance of winning.
A Democrat may actually win a Senate seat in Alabama for the first time in almost three decades.
10:13 p.m.: Don't look now, but Jones has the momentum
With the rural vote in and the urban areas of the state finally starting to report their totals, Moore's lead has narrowed to less than 1%.
Jones now has the momentum, with the vote still left to be counted favoring Jones' campaign.
Don't look now, but a Democrat may actually win a Senate seat in Alabama.
9:55 p.m.: While we wait, here's a video of Moore riding a horse to the polls
Vote counting is slow going, so here's a video to entertain you. Moore rode to his polling station on his horse, Sassy, today in Gallant, Alabama.
And yes, there's already a Twitter account mocking Moore's stunt.
Back to the race: Moore is still holding a lead with more than three-quarters of the vote in. However, the remaining votes are in urban and more Democratic areas of the state, so Jones is very much still in this race ... y'all.
9:33 p.m.: The New York Times needle shows good news for Jones
The New York Times is tracking election results with their needle of doom, as your liveblogger likes to call it, and the needle at this exact moment shows Jones is heavily favored.
Nate Cohn, one of the New York Times' data gurus, explained why the needle shows Jones with such an edge — despite the fact that the current results show Moore with a lead.
"Folks, our model thinks that the GOP may have a big turnout problem," Cohn tweeted. "The three, white, GOP counties have fallen far short of our turnout estimates — including two under 75% of our estimates. That's what the big swing in our estimate is about."
A little more than half of precincts are now reporting. But much of the vote that remains to be counted is in the state's major urban areas, which are vote-rich and lean Democratic.
9:21 p.m.: Republicans say no matter what happens, their party loses tonight
We don't yet know which candidate will win the race, but top Republican strategists are making clear they think their party loses no matter the outcome.
They fear that Moore will be an anchor on Republicans in the 2018 midterm elections.
"One benefit for GOP senators if Moore wins: improved cardio and agility dodging cameras for the next 11 months," David Kochel, a top strategist for Jeb Bush's failed presidential run in 2016, tweeted.
"Before we get the results, I'd just like to thank Steve Bannon for showing us how to lose the reddest state in the union and Governor Ivey for the opportunity to make this national embarrassment a reality," Josh Holmes, a former top aide to Senate Majority Leader Mitch McConnell (R-Ky.), tweeted.
Mic wrote a story about Republicans fearing Moore would be a problem for other Republicans in 2018. You can read that here.
8:59 p.m.: Moore takes the lead as more votes trickle in
As Election Day votes trickle in, Moore has taken a lead.
Still, an hour after polls closed, just 10% of the vote has been counted. (Check the 8 p.m. update below for why the vote counting is so slow.)
If you're following results, Dave Wasserman, the elections guru at the non-partisan election site Cook Political Report, created a spreadsheet of benchmarks each candidate needs to win. You can match up those benchmarks to the results coming in.
8:36 p.m.: Washington Post banned from Moore election night event
The Moore campaign has banned the Washington Post, which broke the story of the women who accused Moore of sexual misconduct, from Moore's election night event.
Moore has attacked the Washington Post for their report.
Reporters who were allowed into Moore's event showed that the press credential they were handed has two large photos of Moore's face on them.
8:21 p.m.: More exit polling
We have more exit poll data now that polls are closed, and there are nuggets in the data that each candidate could take comfort in.
For Jones, exit polls suggest 30% of the electorate is black, CNN is reporting. That's more than the 25% they thought could give them a win.
For Moore, he's winning white, college educated voters and non-college educated voters, according to CNN.
8 p.m.: Polls are now closed
Voting is over in Alabama.
Of course, those still in line at the time of poll closures will be allowed to vote. But for the most part, voting is done.
Now, we wait for results — and it could be a while before we see any meaningful numbers. That's because of how the vote is tabulated in Alabama.
Here's how an Alabama Republican strategist described the vote-counting process to Mic:
"When a polling place closes, they tabulate the results and print out two receipts. One is posted on the door to the polling place and the other is DRIVEN to the county seat, and then tabulated by probate judge. In some counties, the county seat is 1 hr + away from polling places inside that county. Yeah, it could take a while."
So sit tight, it might be a long night.
7:31 p.m.: "We pulled all this together in seven days"
GREENSBORO, Alabama — For Jones to win, he needs near-historic levels of black voter turnout.
On Tuesday, LaTosha Brown rolled up to a decaying armory in Greensboro, Alabama, sporting a "Black Votes Matter" t-shirt. Her minivan held dozens more shirts and hundreds of flyers to spread across Alabama's black belt on Election Day.
"We pulled all this together in seven days," Brown said in an interview. Her organization coordinated voter turnout with 460 organizers across 19 counties in Alabama, she said.
Around lunchtime in Greensboro, a predominantly black county of 15,000 residents south of Tuscaloosa, the local probate judge predicted turnout of about 25% countywide.
Later, in Selma, organizers said they predict similar turnout levels today.
That would not approach the 50% or more some of the majority-black counties across central Alabama saw when Barack Obama was first on the ballot in 2008, Arthur Crawford, senior probate judge in Hale County, said in an interview.
According to Alan King, the probate judge in Birmingham, by 6 p.m. Central predominantly black precincts had lagging turnout compared to wealthier, white precincts in Jefferson County — where about a quarter of the state's voters reside.
7:21 p.m.: What will Republicans do if Moore wins?
Some Republicans have been speaking in dire terms about the possibility of Moore winning and joining their ranks in Congress. They fear the child molestation allegations could taint the GOP brand, and cause issues for other Republicans running in other states in the 2018 midterms.
Of course, we don't know yet if Moore will win. But Republicans plan to meet tomorrow if he does in order to discuss what the party should do with Moore, according to NBC News.
There are a few possibilities. Republicans could call for an Ethics Committee investigation, or even vote to expel Moore from their ranks, which some Republicans have said they want to do.
But it will only get to that point if Moore wins.
We'll know more when polls close in less than an hour how likely that possibility is.
7:13 p.m.: Early exit polls
Early exit polls have been released on the race, and they are providing some signs for what may come when polls close and results start trickling in.
Of course, early exit polls are just that — early. These numbers may change.
However, there seem to be some promising signs for Jones' campaign.
Most eye-popping: 30% of the electorate is black, according to CNN's exit poll.
Jones' campaign and election analysts said he would need the electorate to be 25% black to win.
Also, 49% of voters say the allegations of sexual misconduct against Moore are either "definitely" or "probably" true. A smaller 45% say the allegations are "definitely" or "probably" false.
7 p.m.: Live blog
Voters in Alabama cast their ballots on Tuesday in what's been a wild Senate special election, besieged by allegations of child molestation against Republican nominee Roy Moore.
Normally, a Senate race in deep red Alabama would be a foregone conclusion for the GOP. However, the allegations against Moore have made the race competitive, and there's a real possibility that Democratic nominee Doug Jones will win.
Polls in the state close at 8 p.m. Eastern. Stay with Mic for updates, including from our own Will Drabold, who's on the ground in Alabama.