The best day of the week to book a flight, according to new data from Expedia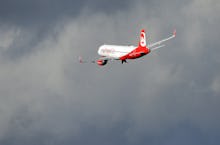 For what feels like eons, we've been told that Tuesday is the best day of the week to book a cheap flight. But new data from Expedia reveals that the second day of the work week isn't going to score you the sweetest deal.
In its collaborated report with the Airlines Reporting Corporation, Expedia found that booking on Sunday will earn travelers the lowest average ticket price, for both economy and premium classes. The key is to purchase tickets at least 30 days in advance to yield the biggest savings — so no procrastinating.
Business travelers may be able to snag a less expensive flight if they book their departure for a Friday. That's reason enough to extend your work trip to explore a new city — surely your employer will be enticed by the initiative you've taken to save them a little cash.
While these findings can help guide your purchasing decisions, they're not an ultimatum. As Scott Keyes, the founder of Scott's Cheap Flights and a person who has made a living out of finding the best travel deals, previously said in an interview, there's no hard and fast rule for when to book, as prices are ever-changing. "Today airfares are changing not only by the hour; they're changing by the minute, [and even] by the second sometimes," he said. It's a disappointing truth, but at least it means you don't have to spend your Sundays glued to your internet browser.