What becomes of the tax bill after Doug Jones' win?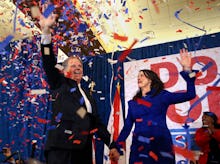 Democratic nominee Doug Jones pulled off a stunning upset in Alabama Tuesday night, eking out a win that could throw a major wrench into Republican efforts to pass their tax reform bill.
Jones' victory shrinks the Republican's majority in the Senate to just 51 votes.
That means the GOP can lose just one vote in the Senate and have their legislation pass.
Already, Sen. Bob Corker (R-Tenn.) voted against the Republican tax bill earlier this month. And there's pressure on other Republicans, including Sens. Susan Collins (R-Maine) and Jeff Flake (R-Ariz.) to vote against the yet-to-be-released bill House and Senate Republicans are working to combine.
Democrats, for their part, are calling on Senate Majority Leader Mitch McConnell (R-Ky.) to hold out on voting on the combined bill until Jones is seated.
"Doug Jones should be seated immediately — before we vote again on the tax bill," Sen. Kamala Harris (D-Calif.) tweeted Tuesday night after Jones was declared the victor. "Alabama voters deserve to have their voice heard in this fight."
"We should be ready to make some noise if McConnell doesn't seat Jones before we vote on tax reform," Sen. Chris Van Hollen (D-Md.) tweeted. "Alabamians deserve to have their voices fully heard."
"I call on Senate Majority Leader Mitch McConnell to listen to the people of Alabama and seat @GDouglasJones without any delay," Sen. Elizabeth Warren (D-Mass.) tweeted.
There's precedent for a party holding off on a major vote until the victor of a special election is seated.
In 2010, deep into the debate over the Affordable Care Act, Republican Scott Brown won a Senate seat in Massachusetts, flipping the seat that had been held by the late Democratic Sen. Ted Kennedy.
Brown was sworn in 16 days after his victory — and no major votes were held in that period.
McConnell demanded that Brown be seated before any more health care votes.
And Democrats obliged.
"We're going to wait until the new senator arrives until we do anything more on health care," then-Senate Majority Leader Harry Reid said at the time.
At the time, Democrats were in a similar position with the health care bill that Republicans are in with their tax plan.
The Democratic-controlled Senate — in which they had a filibuster-proof, 60-vote majority — and the House had already passed the ACA.
However, Democrats knew that once Brown was sworn in they would lose their filibuster proof majority. And if the House had passed its own version of a health care bill, Republicans could have blocked final passage.
Ultimately, House Democrats simply decided to pass the Senate's health care version, and former President Barack Obama signed the bill into law in March 2010.
Republicans are facing a similar dilemma now.
The earliest the results from Tuesday night's special election will be certified is Dec. 26, according to Reuters. And since Congress is slated to be out of town for the Christmas and New Year holidays, McConnell said Jones wouldn't be sworn in until January 2019.
Republicans have wanted to pass their conferenced health care bill before Congress leaves for the Christmas recess.
Yet while McConnell is likely to face pressure on holding off on the vote, it's unclear he will.
"No one will be surprised if Sen. McConnell tries to ignore precedent and over rule Alabama voters to get these tax breaks to his donors in time for Christmas presents but Republican Senators who care about  precedent, process and regular order can't let him," said Jesse Ferguson, a Democratic strategist working to defeat the tax bill.
Yet even if McConnell did hold off on the vote, it's not certain that Jones' vote would make a difference.
So long as Corker remains the only Republican to vote against the tax bill, it would pass.
That's why activists — such as Ady Barkan, a man with ALS who implored Flake to vote against the bill in a video that's since gone viral — are likely to try to flip other Republican votes, including Collins and Flake.