Is this what black Alabamians died for?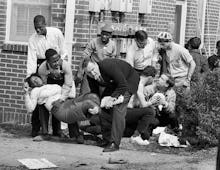 Many Americans heaved a sigh of relief Tuesday when Democrat Doug Jones defeated Republican Roy Moore to become Alabama's next United States senator. The unlikely victory — the first for a Democratic candidate for U.S. Senate in the state since 1992 — was made possible by the moral stench that had engulfed Moore of late.
Moore, the former prosecutor-turned-judge-turned-Senate hopeful, stands accused of pursuing several children for sexual relationships during the 1970s and 1980s, when he was in his 30s. He was rumored to have been banned from a mall in Gadsden, Alabama, for harassing teenage girls at one point. A woman named Leigh Corfman told the Washington Post in November that Moore made her touch his penis when she was just 14 years old.
It should surprise no one that these extracurriculars were not disqualifying for Moore's candidacy. Quite the contrary. Moore received the financial support of the Republican National Committee, the full-throated endorsement of President Donald Trump — himself an accused sexual predator — and the votes of a remarkable 68% of white Alabamians who cast ballots in Tuesday's race. (The current tally shows that Jones won by just over one percentage point.)
Never, to my knowledge, has an American election featuring an accused child molester been decided by such a narrow margin, yet here we are. And as is often the case, those who fought most insistently to keep this reprehensible figure from deciding the fate of millions of Americans were the same black voters who have been beaten, lynched and murdered for trying to cast ballots in the state for much of the past 100 years. Ninety-three percent of black male voters and 98% of black female voters backed Jones on Tuesday.
The indignity of black people shedding literal blood to gain the franchise, only to be tasked — in 2017 — with preventing white people from electing an alleged child molester to the Senate, is unfathomable. As is the shameless and amoral partisanship that defines GOP politics today, such that 91% of self-identified Republicans voters in Alabama felt that Moore's homophobia and plans to ban abortion were values more precious than stopping a man who likely preyed on children from making major policy decisions.
To deny that this split is racial is delusional. Few pundits will allude to any cultural pathology inherent to white conservatism, but the fact that both white voters and conservative voters as blocs voted overwhelmingly for Moore speaks for itself. At the national level, the GOP is functionally the party of white people, as evidenced by its almost 90% white member base. The very fact that Moore was a viable political candidate to begin with is largely a white phenomenon.
Observers have rightly credited black voters for playing a leading role in Jones' win, consequently. Some have even thanked black people for "saving" Alabama, and the U.S., from whatever havoc Moore might have wreaked in Congress. But the reality is that most of white Alabama overwhelmingly did not want to be saved. It voted for its values, in no unclear terms. It seems more likely that black Alabamians voted to save themselves. As has long been the case.
For years, the franchise has been one of the few ways black Americans could have a political voice in the South. Watching footage of black marchers and their allies cross the Edmund Pettus Bridge in Selma in 1965, being tear-gassed by police, beaten and, in some cases, killed, it is instantly clear there is nothing theoretical about their agitation for voting rights. The toll of their struggle was written in blood on the road. Voting was a means of survival, their most viable way of countering a white electorate that insisted on flooding their state houses and governors' mansions with violent segregationists.
The U.S. Supreme Court in 2013 gutted the Voting Rights Act that nominally protected black people's right to vote, targeting provisions that required federal approval for changes to local voting laws in the South. Alabama Republicans have supplemented this move in the years since by curtailing early voting, enforcing strict voter ID laws — which have been shown to disproportionately affect black people's ability to cast ballots — and shuttering DMV locations in majority-black rural counties where such IDs could be procured, according to Mother Jones.
"As long as I'm secretary of state of Alabama, you're going to have to show some initiative to become a registered voter in this state," Alabama Secretary of State John Merrill said in an interview made public in 2016, justifying these regulations.
Yet despite these dogged GOP efforts to curtail the black vote in the South, black voters have voted anyway, and voted faithfully against Republicans. The result on Tuesday was one of the more stunning upsets in recent American political history.
But the celebratory mood that seems to have struck progressive circles in the hours since should be tempered by the fact that Jones defeated an accused child molester by only the slimmest of margins. Black marchers in the 1960s likely could not have predicted having to stand between white Alabama and a man like Roy Moore 50 years down the road. But considering the moral atrocities they faced in gaining the vote to begin with, it probably would not have surprised them.