Alabama Democrats elated, hopeful for the future after Doug Jones Senate win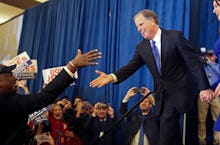 BIRMINGHAM, Ala. — Red, white and blue confetti rained down on Doug Jones as he stepped onstage late Tuesday night and a tear rolled down the cheek of John H. England Jr. A cheer that overcame the Alabama crowd didn't seem to move England, who smiled as the significance of the movement became apparent.
England, who once served on the Alabama Supreme Court as a Democrat, said seeing his son elected to the Alabama legislature and another son become a judge, did not bring him as much emotion as Jones' win.
"When Doug Jones won, it means that black folk and white folk in Alabama came together," England, a judge in the Alabama Sixth Circuit Court, said.
Jones won a coalition that saw black voters make up 30% of the statewide vote, with 96% of them supporting the candidate, a CNN exit poll found. Black voters made up more of the electorate than in 2008 and 2012 — when Barack Obama, the first black president, was on the ballot.
That level of support, coupled with lower support among rural white voters and soaring city turnout, proved too much for Republican Senate candidate Roy Moore to overcome. Jones edged Moore by about 1%.
About 38% of Alabama's registered voters showed up for the election Tuesday, exceeding expectations with more than 1.3 million votes cast. In Birmingham, the Alabama city home to activism that fueled the civil rights movement, 47% of voters cast ballots. Nearly 150,000 votes, or 68%, of the total cast in Birmingham went to Jones.
Chauncey Tuck, a 34-year-old Birmingham resident, sported a University of Auburn sweatshirt to Jones' election watch party. Birmingham is considered University of Alabama territory. But on Tuesday, football rivalries dissolved as Democrats saw their first Senator elected since 1990.
Tuck canvassed in black Birmingham neighborhoods over the weeks leading up to Dec. 12, knocking doors to alert younger voters to the upcoming election.
"People want to be heard, they want to be listened to," Tuck said.
In Alabama's black belt, Ainka Jackson led a group of a few dozen canvassers knocking doors to mobilize voters to support Jones. The Democrat needed strong support across the central-Alabama stretch of counties that have a large black population.
"It's not that things in the South are hopeless [for Democrats]," Jackson said. "It's that we're neglected."
In predominantly black Dallas County, where Jackson was organizing, nearly 45% of registered voters cast ballots. They supported Jones over Moore by a margin of 3-to-1.
Dallas County residents, in particular, have a reason to do their civic duty. Home to Selma, Alabama, the county was ground zero for the push for voting rights in 1965. On Sunday March 7, 1965, more than 50 demonstrators were hospitalized after they were beaten by Alabama state troopers after crossing the Edmund Pettis Bridge to demand the right to vote.
"The climate we see in America, to push people back to where we were, it has caused more people to be involved," Selma Mayor Darrio Melton said Tuesday. "That was not the democracy people fought and bled for."
In Birmingham on Election Day, local and state Democrats were already looking towards the future, following Jones' victory. Lula Albert, a black woman, attended the rally to support the Democrat — and handed out her business card. In 2014, she ran against Alabama Secretary of State John Merrill, but received only 35% of the vote.
"There's nothing you can do about a landslide but learn from it," she said.
Albert said she plans to run against Merrill again in 2018. State Democrats are planning, she said, to let no Republican in a statewide or legislative race run unopposed.
"We got a lot of work to do," she added.
In his victory speech, Jones immediately used the stunning election outcome to demand the Senate take action before he is sworn in. "I have a challenge to my future colleagues. Don't wait on me. Take this election from the great state of Alabama," Jones said to a roaring cheer from the crowd.
"Go ahead and fund that [Children's Health Insurance Program] for those kids before I get there," he added.
The senator-elect, who may not be seated until January, told supporters Alabama was at a crossroads and for once in its history, chose the right path.
Meanwhile, Rep. Terri Sewell (D-Ala.) happily welcomed news of another Democrat from Alabama in Washington. Sewell, a black woman who represents the state's black belt, said the victory sets a new standard for how the rest of the country should view the Yellowhammer State.
"We redeemed our souls tonight," Sewell said. "Alabama proved it is not the Alabama of old, but the Alabama of new."