Doug Jones won because black voters and suburban women came out for the Democrat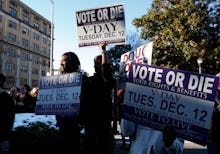 BIRMINGHAM, Ala. — Black voters made up a larger percentage of the electorate in Alabama's special Senate election than they did when Barack Obama attracted a surge of black voters in 2008, according to exit polls. And the suburban vote essentially evaporated for Republicans on Tuesday night.
Doug Jones, the Democratic senator-elect from Alabama, benefited on Tuesday from backlash against Republican opponent Roy Moore during the special election. But a turnout machine in counties with large black populations was key, strategists said, as were the efforts of grassroots groups around the state.
As part of its $2.1 million outreach program, Black PAC, focused on organizing black communities to drive electoral change, said canvassers knocked 250,000 doors in the last five days of the election. In contrast, Jones said in his victory speech that the campaign knocked on 300,000 doors throughout the race. The PAC's outreach focused on Alabama's predominantly black cities.
"This victory wouldn't have been possible without a massive effort to knock on doors and talk to black voters about how voting in this election could improve their lives and send a message about the kind of country that we want to live in," Adrianne Shropshire, executive director of Black PAC, said in a statement.
With about 40% voter turnout statewide, Jones defeated Moore by about 21,000 votes. Black PAC estimated black turnout surged by 40,000 — more than providing the margin of victory and making black voters 29% of the electorate. Concerns about black enthusiasm for Jones proved unfounded as 96% of those voters backed Jones.
LaTosha Brown, organizer of Black Voters Matter, said she raised $200,000 in a week to help community groups across 19 Alabama counties pay to canvass black areas. Her outreach focused on areas that saw less support from the Jones campaign or Black PAC. On Tuesday, she drove across the state's "Black Belt" of counties with large black populations handing out "Black Voters Matter" T-shirts.
"This is what happens when you invest in the South," Brown said of the election result.
Jefferson County Probate Judge Alan King spoke with Mic as election results rolled in throughout the night. King, the probate judge in Birmingham for 17 years, saw strong results for Jones throughout the night — but was wary of saying the Democrat would win the state's largest county by more than 60,000 votes. As of 9:30 p.m. local time, the precincts that had still not reported were likely to favor Moore, King thought.
But the support for Moore never materialized. Jones ultimately won Birmingham and its suburbs in Jefferson County by more than 83,000 votes. In 2016, Hillary Clinton defeated Donald Trump by only 14 percentage points in the county. Jones defeated Moore by 38 points.
Exit polls showed Jones won 30% of Alabama's white votes and made major gains among college-educated voters, who represented 44% of the electorate. Women, who made up a slight majority of voters on Tuesday, said they believed the allegations of sexual misconduct against Moore. Many white, college graduate women also voted for Jones — sending support to the Democrat in typically Republican areas.
In Huntsville, volunteers for the progressive group Indivisible worked for weeks to raise awareness of the election. Huntsville, the county seat of Madison County, has two historically black universities, a biotech industry and is often ranked the most educated city in Alabama.
Despite the high number of college degrees, Trump still easily beat Clinton there in 2016. On Tuesday, Jones beat Moore by 17 points in Madison County, netting nearly 20,000 more votes than Moore — roughly the same as the statewide margin.
Susan Higgins, who has lived in Huntsville for six years, said before the 2016 election result, local progressives did not talk politics, even if they had the same views. Now, Higgins and dozens of other local women are leading the push to mobilize the county to elect Democrats moving forward. Those who were once closet progressives in the community have become connected, Higgins said.
"There's a grassroots energy and one-to-one engagement I haven't seen," she said. "It's not just a Facebook post. It's, 'You're my friend, I want to make sure you vote.'"