Doug Jones defeated Roy Moore, but the blow he dealt to Trumpism may be more important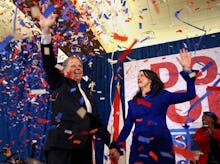 Decency still matters in U.S. politics — by about 1.5%.
In Alabama's special election Tuesday, Democrat Doug Jones dispatched Republican Roy Moore — the accused child molester and far-right extremist who had enjoyed the full-throated support of Donald Trump until he lost, at which point the president promptly threw the controversial ex-judge under the bus.
"I said Roy Moore will not be able to win the general election," Trump tweeted. "I was right!"
Of course, one doesn't have to have a particularly good memory to recall how Trump had gone all-in on the horse-riding, gun-toting, alleged teenager-dating Moore. Trump bucked his own party to back him after the allegations against Moore emerged, tweeting all-caps endorsements, campaigning for him in Florida over the weekend and recording a robocall on his behalf.
A plurality of Alabama voters rejected Moore in spite of all that, handing Jones a stunning victory and sending a Democrat to represent them in the Senate for the first time in 25 years.
Some of that, of course, was a reaction to Moore — a cartoonishly flawed candidate whose cries of "fake news" couldn't drown out the women who credibly accused him of preying on them as teenagers.
But Tuesday's results also seemed a referendum on Trump, whose political clout appears to be fading and whose deep unpopularity may make him a political liability for the Republican Party in 2018 and beyond.
Trump, Bannon take another one on the chin
Moore, of course, is the second loser Trump backed in Alabama.
The first, Sen. Luther Strange, was defeated by Moore in the Republican primary in September despite Trump's endorsement.
Strange, who was appointed to fill Attorney General Jeff Sessions' vacant Senate seat in February, was the preferred candidate of the GOP establishment. But Moore, despite not getting Trump's initial endorsement, was the more Trumpian figure, and — like Trump — had the backing of wannabe populist kingmaker Steve Bannon.
That Moore was defeated suggests voters' affinity for Trumpism may be waning, giving Democrats an opening to start coloring the electoral maps blue, according to Ben Ray, a Democratic strategist who helped Sen. Joe Donnelly (D-Ind.) to victory in 2012 over far-right Republican Richard Mourdock.
"I think it's a fairly dire warning to Republicans that they've got to get their act together," Ray said in a phone interview. "Republicans are losing some voters who are really key to their coalition, and I think it's because they're upset with the failures of that party since it got unified control."
Jones' upset victory in blood-red Alabama came a month after another proxy loss for Trump in Virginia, where he'd endorsed Ed Gillespie for governor but was forced to save face after Democrat Ralph Northam — who was backed by former President Barack Obama — won in a decisive victory.
"Ed Gillespie worked hard but did not embrace me or what I stand for," Trump tweeted after the election.
But Republicans have been concerned Gillespie lost not because he did not embrace Trump — but because he did. Moore's loss Tuesday suggests Trump's endorsement may not help much these days — or may even hurt.
Trump won Alabama by a lot in 2016.
But exit polls conducted Tuesday showed that, stunningly, voters in the state were split evenly, 48% to 48%, on the president's job performance so far.
While the 48% approval Trump enjoys in the Yellowhammer State is higher than the 36% Gallup has him sitting at nationally, the apparent downward trend in one of the most reliably red states seems ominous for Republicans ahead of the 2018 midterms.
The party struggled with moderates and was overwhelmingly rejected by black voters in the state, according to exit polling. Further, a majority of those leaving the ballot box Tuesday told pollsters the allegations against Moore were not the biggest factor in their vote — suggesting his loss can't just be chalked up to the fact he's an accused pedophile.
The establishment seemed to welcome the loss in Alabama, pointing to it as a wakeup call to the party that its Bannon wing could be driving it off a political cliff.
Indeed, the results can be read as something of a rebuke of Trumpism.
But while Tuesday was undoubtedly a major victory for Democrats and a reflection of a deeply flawed Republican party, Moore was also so unusually unqualified and plainly toxic that it can be dangerous to extrapolate too many lessons from the special election.
Sure, Democrats gained a Senate seat and did so in a conservative stronghold. But they also did so in a narrow victory against a candidate who was accused of being a sexual predator and openly held deeply bigoted views.
"When you work hard and run a strong campaign, Democrats proved we can win anywhere and there were certainly some promising signs for our party last night," Justin Barasky, a former top aide at the Democratic Senatorial Campaign Committee who now manages Sen. Sherrod Brown (D-Ohio)'s 2018 re-election campaign, said in a phone interview Wednesday. "But we also have to remember that Moore was a uniquely flawed candidate and we can't take anything for granted going into 2018."
Emily C. Singer contributed to this report.