Roy Moore won't concede to Doug Jones in Alabama. What does that mean?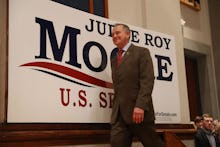 Roy Moore — the accused child molester President Donald Trump endorsed in Alabama's special election — refused to concede to Doug Jones Tuesday evening after the Democrat defeated him in the race for Attorney General Jeff Sessions' former Senate seat.
"I really want to thank you for coming tonight and realize when the vote is this close, that it's not over," Moore told supporters Tuesday. "And we still got to go by the rules about this recount provision, and the secretary of state has explained it to us and we're expecting that the press will go up there and talk to them to find out what the situation is. But we also know that God is always in control."
The controversial ex-judge's insistence that the race wasn't over does not seem to be supported by the facts, though.
Alabama Secretary of State John Merrill, who openly supported Moore and is in charge of certifying the results, told CNN late Tuesday that it was "highly unlikely" that the results of Tuesday's special election would change in Moore's favor.
"The people of Alabama have spoken tonight," Merrill said. "They've made their voice heard loud and clear. The most important thing to remember now is the process needs to be followed to ensure that the integrity, the safety and security of the election is preserved."
Is the election "not over" as Moore claimed?
In his non-concession speech Tuesday, Moore suggested that the race was close enough to automatically trigger a recount.
"It's not over and it's going to take some time," Moore said.
But according to numbers put out by the New York Times, the race does not seem to have been that close.
Under Alabama law, a race that finishes within half a percentage point gets an automatic recount.
But according to the Times, Jones is up by about 1.5% — 49.9% to Moore's 48.4% — and therefore the "recount provision" mentioned by the controversial Republican wouldn't seem to apply.
Moore can still request a recount, according to Merrill, but the costs would come out of his pocket — and wouldn't likely change the results.
If Moore does hang on to his long shot hopes of contesting the election results, it would seem to be without the backing of Trump and other conservative supporters, who seem to have conceded that Jones won.
The election results must be certified after Dec. 26 and before Jan. 3.
"I voted for Judge Moore, and I stated the reasons I voted for Judge Moore," Merrill said on CNN Wednesday morning. "But Judge Moore is not the victor in this campaign."