Trump tweets that he knew Roy Moore couldn't win, despite endorsing him: "I was right!"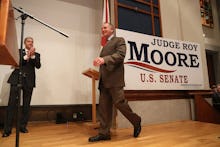 In the wake of Republican Roy Moore's loss to Democratic challenger Doug Jones in the Alabama Senate race on Tuesday, President Donald Trump tweeted to assure Americans that he had seen the defeat coming.
"The reason I originally endorsed Luther Strange (and his numbers went up mightily), is that I said Roy Moore will not be able to win the General Election," Trump tweeted early Wednesday. "I was right! Roy worked hard but the deck was stacked against him!"
Trump had indeed initially backed Strange in the special election — for the Senate seat vacated by Jeff Sessions, now the U.S. attorney general — but his enthusiasm for him visibly waned as Moore's popularity surged during the Republican primary. By September, with Strange lagging behind Moore in several key polls and the writing on the wall, Breitbart described the Trump's endorsement of Strange as "tortured."
"We have to be loyal in life," Trump said at a campaign event for Strange in late September, alluding to Strange's imminent defeat. "There is something called loyalty, and I might have made a mistake and I'll be honest, I might have made a mistake."
Even after Republican primary voters rejected Strange — an embarrassing blow to his mandate — Trump, undeterred, pivoted to fervently backed Moore, even in spite of allegations that Moore had sexual contact with multiple teenaged women when he was a married man in his 30s.
The electoral defeat in the runoff, however, had seemingly bruised Trump's ego, as he attempted to distance himself from the loss by scrubbing all of his tweets endorsing Strange from his Twitter timeline.
But on Wednesday, after the win by Jones — the first Democrat to win a Senate seat in Alabama in 25 years — Trump backpedaled yet again, claiming to have been right all along with his initial endorsement of Strange.