Doug Jones' historic victory is more than a fluke — it's a model for Southern progressives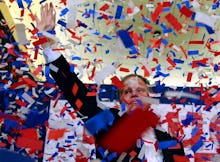 Welcome to Mic's daily read on Donald Trump's America. Want to receive this as a daily email in your inbox? Subscribe here.
Wednesday's dispatch: A historic victory by all accounts
Democrat Doug Jones' special-election victory Tuesday night for the Senate seat vacated by Jeff Sessions has the entire political world rethinking the way politics works in the United States.
Well, almost everyone.
After tweeting an uncharacteristically measured response to the election results Tuesday night, President Donald Trump reverted to his typical petulant self on Wednesday morning, tweeting excuses about how Roy Moore was never his favorite candidate anyway.
"The reason I originally endorsed Luther Strange (and his numbers went up mightily), is that I said Roy Moore will not be able to win the general election." Trump tweeted. "I was right! Roy worked hard but the deck was stacked against him!"
It's worth noting that after Moore defeated Sen. Luther Strange in the primary, Trump deleted his tweets supporting Strange and went all in on an accused child molester. Moore was also largely absent from the public eye during the end of the campaign.
But while Trump may not be willing to accept the message Alabama voters sent on Tuesday, the rest of the world is.
Sen. Jeff Flake (R-Ariz.), who defied his party and supported Jones, responded to the victory with a two-word tweet. "Decency wins."
Sen. Cory Booker (D-N.J.), who went to Alabama to stump for Jones, tweeted, "The great state of Alabama gave the whole country a needed renewal of hope and the first ray of light of a rising sun and a coming new day."
While Jones' victory is widely considered to have only been possible because of the perfect storm of child molestation allegations against Moore, the historic nature of the Democrat's victory cannot be overlooked.
As Mic's Will Drabold reports from Alabama, "Black voters made up more of the electorate than in 2008 and 2012 — when Barack Obama, the first black president, was on the ballot."
For the first time in Alabama history, a strong coalition of black voters tipped a Senate election for a Democratic candidate — a candidate whose career and campaign were a strong rebuke to the state's troubled racial history.
While Moore's stained candidacy was definitely a major factor in the election, it would not have been possible without the strong foundation of black voters.
Democrats and progressives now have a model for how to win in the Deep South, and that could prove far more valuable than any one Senate seat.
Wednesday in Trump's America:
Defiant Moore: As of Wednesday morning, Moore had yet to concede the race, waiting for the state's final vote tally. At his not-quite-a-concession rally, Moore told supporters not to give up hope because "God is always in control."
Alabama GOP will not call for a recount: The Alabama Republican Party announced Wednesday morning that it will not call for a recount in the state's special election.
"While we are deeply disappointed in the extremely close U.S. Senate election results with our candidate Judge Roy Moore, we respect the voting process given to us by our Founding Fathers," Alabama Republican Party chairman Terry Lathan said in a statement.
Peace out of reach: In the Middle East, Mahmoud Abbas, leader of the Palestinian Authority, has said that his people will reject any U.S. role in peace talks, after Trump's controversial embassy decision. The move is a major blow to U.S. diplomacy in the region.
New urgency in the tax battle: In an apparent attempt to protect the GOP's tax bill, Senate Majority Leader Mitch McConnell (R-Ky.) declared on Tuesday that he would not seat the winner of Alabama's election until the vote was certified. Now, Democrats are calling on McConnell to seat Jones before the tax vote.
USA Today's toilet talk on Trump: In a blistering op-ed, the editorial board of USA Today took on Trump for his sexual innuendo directed at Sen. Kirsten Gillibrand (D-N.Y.). "A president who'd all but call a senator a whore is unfit to clean toilets in Obama's presidential library or to shine George W. Bush's shoes," the paper wrote.
Expect a response from Trump via Twitter at some point.
Photo of the day:
Supporters celebrate Tuesday night in Birmingham, Alabama, as Doug Jones is declared the winner in Alabama's special Senate election for the seat vacated by Attorney General Jeff Sessions.
Under the radar:
Senate confirms an unqualified judge: On Tuesday, the Senate voted along party lines to confirm Leonard Steven Grasz to the federal bench despite the fact that Grasz had received a unanimous "not qualified" rating from the American Bar Association. Since 1989, the ABA has reviewed more than 1,700 judicial nominees and delivered only three "not qualified" ratings. The other two nominees who received the rating were withdrawn and replaced with more qualified candidates.
Break the internet: Ahead of the Federal Communications Commission's big net neutrality vote on Thursday, online activists have started a campaign to "break the internet." Activists are encouraging net neutrality supporters to "go wild and tweet every 10 minutes until the FCC vote, change your job on LinkedIn to 'Defending Net Neutrality' or say you're 'Married to the Open Internet' on Facebook. Do whatever you can to get everyone's attention and drive phone calls to Congress."
Today's MicBite:
He'd been a Republican his whole life. He spent his entire career working for the GOP. He's even worked with Breitbart News.
But now, thanks to Roy Moore... he's a Democrat.