With stretch marks, cellulite and diverse models, Missguided's latest campaign calls for self-love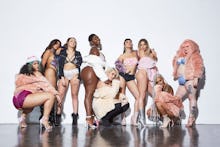 Missguided's latest campaign, called #MakeYourMark, should stand as an example of how you do diversity right and beautifully in fashion.
Models pose in cute bralettes, fur coats and lacy underwear, and are of various sizes, skin tones and body types. Stretch marks, tummy rolls and cellulite aren't hiding in the least, and the models themselves get to speak out about loving every inch of themselves.
"As part of our new #KeepOnBeingYou movement, we're on a mission to inspire babes the world over to love themselves, for themselves, to embrace your flaws and to not strive for what the world perceives as perfection," Missguided writes on its site. "Because f*ck perfection, it doesn't exist. We are making a pledge to never retouch our models' perfect 'imperfections' out."
As a brand that just recently stopped editing out stretch marks on its models and started including women like Munroe Bergdorf in its campaigns, this switch in image is quite the feat.
The models who star in this particular campaign are largely models and stars on social media, including Emily Bador who's @Darth_Bador on Instagram, Felicity Hayward, artist Jade Laurice, Tinar and Sam Rowswell from @FattyBoomTatty. All the models are given not just pages where you can learn about them, but space for them to discuss self-love and what they've learned over the years too.
For instance, Tinar, whose full name is Netsai Tinaresse Dandajena, defines female empowerment as "being able to look at another queen and see all the positive attributes they have." And Nylo, who's a writer, activist and a member of the all-girl collective called Pxssy Place says: "As a society there's so many unspoken rules and regulations about everything, I think we should appreciate how far we've all come."
Each model gets their own video as well, where they again offer stories about themselves.
"I've had to learn to love my body, and the way it's changed over the years," Sam Rowswell says in her video. "Stretch marks appeared on my body as a teenager. Scars, birth marks, any sort of imperfection ... they tell a story."
While lots of companies are getting smart to the fact that people want to see women as they truly are, campaigns like #MakeYourMark stand out from the crowd by giving models the opportunity to not only strike a pose, but also speak their minds.