Minnesota governor appoints Tina Smith to fill Al Franken's Senate seat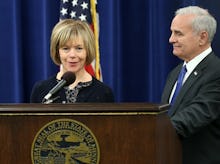 Democratic Minnesota Gov. Mark Dayton on Wednesday appointed Lt. Gov. Tina Smith to fill the Senate seat being vacated by Democrat Al Franken, who was forced to resign last week in the wake of a sexual harassment scandal.
"She will be a senator of whom all Minnesotans can be proud," Dayton said at a news conference announcing the appointment.
Smith, also a Democrat, said she plans to run in the special election to serve out the remainder of Franken's term, which expires in January 2021.
It's unclear whether Smith will face a primary from fellow Democrats in the special election.
But progressive favorite Rep. Keith Ellison (D-Minn.), who was considering running, has ruled out a bid, according to the Minneapolis Star Tribune.
The race is currently rated a likely Democratic seat by the election forecast site Inside Elections.
— Will Drabold contributed to this report.
Dec. 13, 2017 11:13 a.m.: This article has been updated.