'Apprentice' star turned White House staffer Omarosa Manigault leaving Trump administration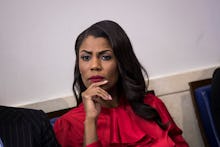 Omarosa Manigault, The Apprentice contestant invited into the Trump administration as a White House aide, will leave the West Wing effective Jan. 20.
The White House announced the departure Wednesday morning, ending what's been a tumultuous tenure for Manigault in the West Wing.
"Omarosa Manigault resigned yesterday to pursue other opportunities," White House press secretary Sarah Hucakbee Sanders said in a statement. "Her departure will not be effective until Jan. 20, 2018. We wish her the best in future endeavors and are grateful for her service."
Manigault served as the director of the White House Office of Public Liaison. It's not immediately clear what led to her resignation, and whether or not she was in fact fired from the role. White House reporter April Ryan reported that Manigault's exit from the West Wing was another dramatic affair for her.
Ryan reported that Manigault was "escorted out of the building" and off the White House grounds.
New York Times reporter Yamiche Alcindor indicated on Wednesday morning that Manigault was "let go" by the administration.
During her time in the West Wing, Manigault caused a number of stirs during her time in the West Wing.
In April, she brought some of the 39 members of her bridal party to the White House for a photoshoot, according to a Politico report, causing a disruption throughout the building.
She also caused drama at a National Association of Black Journalists conference over the summer, getting into a shouting match on a panel when she was asked by a panelist how she "could sit in a White House" which the panelist said supports police brutality.
"Are you suggesting that I just walk away?" Manigault asked.