What do we know about Doug Jones? Alabama's new Democratic senator has had an inspiring career.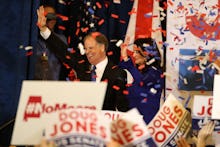 Former U.S. Attorney and Alabama Democrat Doug Jones made history Tuesday when he beat Republican frontrunner and alleged sexual predator Roy Moore to win a seat in the U.S. Senate.
Jones' win marks the first time Alabama has elected a Democrat to the U.S. Senate since 1992, when current Sen. Richard Shelby — who later became a Republican — was re-elected to Congress' upper house.
While Moore's candidacy was marred by the politician's past — which includes alleged sexual misconduct with teenage girls and twice being removed from his position as chief justice of the Alabama Supreme Court — Jones' ascension to the U.S. Senate is the latest step in a dignified career defined by his championing of civil rights.
Here's what to know about the U.S. Senate's newest member.
Early life and career
Jones was born into a blue-collar family in Fairfield, Alabama, to a stay-at-home mother and a father who worked for U.S. Steel, the senator-elect's website explains. Jones himself worked at the local steel mill when not in school.
Now 63 years old, Jones was raised in Alabama during the height of the civil rights movement. Though his town was long segregated, King 5 News reported Jones first attended classes with black students in the seventh grade — a rocky transition he stepped forward to help facilitate.
"Whatever was about to happen, he was there to put it out," Darnell Gardner, a black classmate of Jones, told King 5 News. "Doug was always that person who saw both sides and wanted to help move things." 
In a separate interview with Newsweek, Gardner added: "We had some guys who didn't like integration, they called me names I'd rather not repeat. But Doug was always there, he'd take care of it and act as a mediator."
According to Jones' campaign website, it was those friendships he made at Fairfield High School, his steel mill work and the influence of his family that inspired him to pursue a degree in political science at the University of Alabama. After graduating in 1976, Jones went on to earn a juris doctorate degree at the Cumberland School of Law.
While in law school, Jones cut classes to watch Alabama Attorney General Bill Baxley prosecute Bob Chambliss, one of four former Ku Klux Klan members who carried out the 1963 bombing of the 16th Street Baptist Church that killed four young black girls — a case he would take up two decades later.
"If I'd known [Jones] was going to be U.S. attorney and that he would come in and pick up what I couldn't finish, I would have rested much better for 25 years," Baxley, who believed there were additional suspects in the case but was unsuccessful in bringing evidence against them, told the New York Times.
After graduating from law school in 1979, Jones made his way to Washington, where he served as staff counsel to the Judiciary Committee for Alabama Sen. Howard Heflin. Jones then spent four years as an assistant U.S. attorney beginning in 1980 and later joined a criminal defense firm in Birmingham, where he worked from 1984 to 1987, the BBC noted.
In 1988, Jones returned to politics to work on the presidential campaign of a senator he had long admired: Joe Biden, whom he came to admire for "his views and straightforward way of talking" during his time working for Heflin. "It motivated me to watch him approach senators with opposing ideas to his and dialogue with him, not monologue," Jones said in an interview with Newsweek.
Biden returned the favor by campaigning for Jones in the weeks leading up to Tuesday's election.
"The definition of character ... character is a little more than the lengthened shadow of a man. This man has cast in his young years a very significant shadow," Biden said during an October campaign rally for Jones, as quoted by AL.com. "Doug has demonstrated his courage and his absolute integrity. Doug and I have been friends for a long, long time. Doug knows Alabama. He knows your heart and he'll never let you down."
Stint as U.S. Attorney
In 1997, then-President Bill Clinton nominated Jones for U.S. attorney for the Northern District of Alabama, a position Jones served in until June 2001.
Jones worked on embezzlement and fraud cases during his time as U.S. attorney. He also brought an indictment against Eric Rudolph, who carried out the 1998 bombing of the New Woman, All Women Health Care Clinic in Birmingham that killed 35-year-old police officer Robert Sanderson. Rudolph was later convicted after Jones left office in 2001.
His primary achievement in office, however, was his prosecution of two of the four suspects — Thomas Blanton and Bobby Frank Cherry — in the 1963 Birmingham church bombing after the FBI reopened the case in 1993. Robert Chambliss was convicted in 1997 and received a life sentence; the fourth suspect, Herman Cash, passed away in 1994 and was never charged.
Jones brought cases against Blanton and Cherry using circumstantial evidence and testimonies from family members and a recording in which Blanton told his then-wife about planning the bombing, according to the Washington Post. Blanton was convicted in 2001 and Cherry's conviction followed in 2002. Though Jones had left office by then, he was asked to return to try Cherry's case as a special state prosecutor, the Times noted.
Jones told King 5 News he "felt very, very strongly that those children and those families deserved to have a day in court."
"That case had such an impact on the community where I grew up," he said. "It was always a stain. The firehoses and dogs were always a stain. But when four children die in a bomb blast on a Sunday morning in a house of God, it's hard to erase that stain."
According to Rick Bragg, who covered the Cherry trial for the Times, Jones' passion for the case was apparent at the time.
"If you watched him through the course of the trial, you could see he took this personally," Bragg told King 5 News. "This was something that offended him."
Jones penned an op-ed for the Huffington Post about the bombing and the subsequent trials in September, noting that "the pattern of violence as a response to hope" — as the 1963 bombing amid the progress of the civil rights movement represented — has "reasserted itself" through such recent events as the Charlottesville, Virginia, "Unite the Right" rally and ensuing car attack and the 2015 shooting at a church in Charleston, South Carolina.
"We cannot sweep this violence under the rug," Jones wrote. "We must address the forces that lead to it and prosecute those who perpetrate such acts. America is a nation of laws, justice, equality and opportunity, and we must push back against those who threaten those fundamental American values. Hope is durable but not invincible. It represents the best of what America is about, and we all suffer if we fail to protect it."
Post-U.S. attorney's office
Since stepping down as U.S. attorney in 2001, Jones has worked as a lawyer in private practice until co-founding the law firm Jones & Hawley in 2013. According to the law firm's website, Jones is also treasurer of the National Association of Former United States Attorneys; PBS also reported that Jones helped support efforts to revive Alabama's Democratic Party in 2013.
For his civil rights efforts, the Birmingham Civil Rights Institute awarded Jones the 15th Anniversary Civil Rights Distinguished Service Award, his firm's website noted.
Jones now lives in Mountain Brook, Alabama, with his wife, Louise Jones. The two have three children and two granddaughters and celebrated their 25th wedding anniversary on Tuesday, the day of Jones' historic win.
According to the BBC, Jones is a Methodist who has worshipped at the same church for 30 years and believes the "message of Christianity should be one of fairness and inclusivity, not extremism." He is also a collector of political and sports memorabilia and an avid hunter, AL.com reported.
"Doug is culturally very Southern," journalist and author Diane McWhorter told AL.com. "He's intelligent but not an elitist. He's a good ole Southern boy who likes his hunting and fishing and is living the Christian life."
Jones on the issues
As he prepares to take office in the Senate, Jones will bring his largely Democratic views to the legislative body, including progressive stances on the environment, abortion and other divisive issues.
On his campaign website, Jones states unequivocally: "I want to be perfectly clear: I believe in science. The consequences of our unchecked use of fossil fuels for our planet and our health have been clear for decades. Period. Clean air and clean water are not controversial."
The politician believes in climate change and disapproves of President Donald Trump's decision to pull out of the Paris climate agreement. As the son of a steel worker and grandson of a coal miner, however, Jones has also said he "fully appreciate[s] and understand[s] the impacts that environmental regulations have had on many people and businesses" and believes the government "must step up to provide a safety net of health care and job retraining for these workers" whose jobs have been threatened by ongoing environmental improvements.
When it comes to health care, Jones supports the Affordable Care Act and opposes attempts to repeal it, though he agrees the legislation "needs improvement." On his website, Jones said he "would adamantly oppose any proposal that does not protect Alabamians from rising health care costs, higher premiums and out-of-pocket expenses while ensuring those with pre-existing conditions cannot be denied coverage or charged more."
The senator-elect promised to advocate for LGBT rights, women's rights and equal pay, noting on his website that women should not be denied health care services based on their employer's religious beliefs. Jones has said he is pro-abortion rights and that he opposes the Hyde Amendment, which prohibits federal funding being used for abortions.
"To be clear, I fully support a woman's freedom to choose to what happens to her own body," Jones said, as quoted by AL.com. "That is an intensely, intensely personal decision that only she, in consultation with her god, her doctor, her partner or family, that's her choice," Jones said, according to AL.com.
Where Jones may differ with many of his Democratic Senate colleagues is on the topic of gun control reform. In an interview on Meet the Press, Jones told host Chuck Todd he's "a Second Amendment guy," though he does believe in enforcing existing laws and expanded background checks, according to CNN.
"I want to enforce the laws that we have right now," Jones told Todd. "The biggest issue, I think, that's facing the Second Amendment right now is that we need to make sure we shore up the National Crime Information Center, the NCIC system for background checks, to both keep guns out of the hands of criminals but at the same time cut down on error[s] so that law-abiding citizens can get those.
"I love to hunt, I've got a gun case full of guns, but I also want to make sure that we're smart and we're solid on those issues," Jones added.
As the Republican-controlled Congress continues to move forward on tax reform legislation, it is unclear whether Jones will cast a vote on the bill: Senate Majority Leader Mitch McConnell has signaled Jones won't be seated until after the tax vote. Meanwhile, Democrats are pushing for Jones to be sworn in before then.
Should he arrive in time, Jones said in a Nov. 16 interview on NBC News that while he does think a "tax bill is needed," some aspects of the legislation — which favors tax cuts for high-income Americans and corporations — go against what he believes is best for Alabama taxpayers.
"What I've said all along is that I am troubled by tax breaks for the wealthy, which seem to be, in this bill, overloaded," Jones said. "I'm troubled by what appears to be tax increases or no tax cuts for the middle class. I generally try to support cutting corporate taxes to try to get reinvestment into the country
"One way or another, I'll be prepared ... to try and move that tax bill along."