Deputy AG Rosenstein: There is no good cause to fire Robert Mueller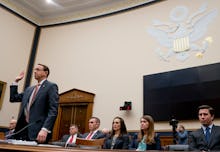 Rod Rosenstein would not fire special counsel Robert Mueller if he was asked to do so by President Donald Trump, the deputy attorney general told the House Judiciary Committee Wednesday.
Rosenstein — who appointed Mueller to lead the Russia investigation after Trump fired former FBI Director James Comey — testified that he would only terminate the special counsel if there was just cause to do so and that he does not believe there is at this time.
His testimony comes as Trump and his Republican allies grow increasingly hostile toward Mueller's intensifying investigation into the campaign's possible collusion with Russia and obstruction of justice on the part of the president.
Rep. Jerrold Nadler (D-N.Y.), ranking member of the House Judiciary Committee, began his line of questioning on Mueller by asking if the special counsel had taken "appropriate action" in removing a prosecutor found to have sent anti-Trump tweets to a colleague from his team.
"Yes, he did," Rosenstein said.
Nadler then reminded Rosenstein of his previous statement that he would only fire the special counsel if there was "good cause."
"Have you seen good cause to fire special counsel Mueller?" Nadler asked.
"No," Rosenstein replied.
"If you were ordered today to fire Mr. Mueller, what would you do?" Nadler asked.
"I would follow the regulation," the deputy attorney general said. "If there was good cause, I would act. If there were no good cause, I would not."
"And you see no good cause so far?"
"Correct," Rosenstein said.
Trump and other Republicans have pounced on the reports that FBI agent Peter Strzok had been booted from Mueller's team of investigators over the summer after it was discovered he had expressed anti-Trump sentiments to a colleague — and that the reassigned agent had played a key role in Comey's investigation into Hillary Clinton.
Trump has cited the revelations as evidence that the system has been rigged against him in favor of Clinton and that the FBI investigation into his relationship with Russia is a politically-motivated witch hunt.
"Its reputation is in Tatters," Trump said of the FBI on Twitter on Dec. 3.
FBI Director Christopher Wray defended the bureau against Trump's attacks in a hearing before the House Judiciary Committee last week, saying its reputation is "quite good."
"The FBI that I see is tens of thousands of brave men and women working as hard as they can to keep people they will never know safe from harm," Wray told the panel.
Trump has long claimed that suggestions his campaign colluded with the Kremlin are a "hoax," but Mueller's investigation has now claimed former national security adviser Michael Flynn, former campaign chairman Paul Manafort and his associate Rick Gates and former campaign foreign policy adviser George Papadopoulos.
Now, Trump's lawyers are calling for an investigation into the investigation, and some Republicans seem to be going to bat for the president, claiming the special counsel is politically biased against him.
But Rosenstein appeared to throw a wet blanket over the Republican criticisms of Mueller on Wednesday, indicating that he believed Mueller has been conducting a fair investigation and that he acted appropriately with respect to Strzok.
He also defended the Department of Justice against accusations of bias during his opening statement, saying the department's thousands of employees are mostly "honorable, principled and trustworthy."
In his opening statement, Nadler called the Trump team's suggestion of a second special counsel to examine the Mueller probe "wildly dangerous" and that the president is engaged in a "persistent and dangerous effort to discredit the free press and the Department of Justice."
He also said he has reviewed the controversial texts Strzok had sent about Trump and felt they were not inappropriate and that his removal demonstrated Mueller's high ethical standards.
"First, Peter Strzok didn't say anything about Donald Trump that the majority of Americans weren't also thinking at the same time," Nadler said. "And second, in a testament to his integrity and situational awareness, when the Office of the Inspector General made Mr. Mueller aware of the exchanges, he immediately removed Mr. Strzok from his team."