Roy Moore's loss may not be the "fatal" blow to Steve Bannon some want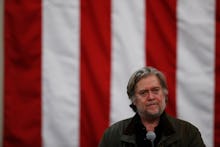 One of the prevailing narratives in the aftermath of Doug Jones's historic win for Alabama's vacant Senate seat on Tuesday is that the outcome represents a devastating loss for former Trump strategist Steve Bannon.
Bannon went out on a limb for Moore early in the race, even after President Donald Trump backed the more moderate candidate, Luther Strange, in the GOP primary. And when allegations of sexual assault against Moore first surfaced, Bannon was one of the first national figures to declare that he was still backing Moore. Trump soon followed suit.
Now some Republicans and conservative pundits are using the opportunity of Moore's loss to try and cast Bannon aside once and for all — but in doing so, they might be playing directly into his plan to wage a civil war within the Republican party.
After leaving the White House in August, Bannon immediately began crafting plans to do battle against the GOP establishment, broadly defined. In October, he told Fox News' Sean Hannity that he wants to try and primary "every single Republican incumbent," except for Ted Cruz.
Those incumbent Republicans are now using this moment to try to undermine his credibility.
The Hill reports that top allies to Senate Majority Leader Mitch McConnell believe that Moore's loss will be a "fatal" wound for Bannon's movement to oust establishment Republicans.
Rep. Peter King (R-N.Y.) tweeted that the GOP should "dump" Bannon, calling his act "tired, inane and morally vacuous."
Meghan McCain, Fox News commentator and daughter of veteran GOP Senator John McCain, was a bit more succinct after Doug Jones' victory over Moore, tweeting for Bannon to "suck it."
But establishment Republicans probably shouldn't take their victory lap over the Bannon wing of the GOP just yet. This sort of condemnation and dismissal is just the kind of thing Bannon feeds on. According to Bloomberg reporter Joshua Green's book, "Devil's Bargain: Steve Bannon, Donald Trump, and the Storming of the Presidency," Bannon is so enthralled with his own sense of rebellion that he made the unofficial slogan of Breitbart "Honey badger don't give a shit," after the popular Youtube video featuring an irreverent wild animal.
On Wednesday, sources close to Bannon told Boomberg reporter Kevin Cirilli that the Jones victory would "pour gasoline" on the Breitbart News chief's efforts, accelerating his plans to topple establishment Republicans.
Bannon's far-right wing website currently features multiple headlines on its splash page blaming establishment Republicans for Moore's loss, and attempting to spin it as the result of various Senate Republicans' unwillingness to back the scandal-plagued Moore.
One Breitbart headline Wednesday refers to Jones' victory as "Mitch's Revenge" in reference to McConnell, while another blames "Republican saboteurs" for "flipping a seat to Dems."
While Bannon certainly didn't do himself any favors with his unconditional support for Moore, it's unlikely it will hurt his cause significantly. The conservative base that Bannon relies on for support has long been skeptical of both the establishment GOP and the media, thanks in part to the circumscribed media universe Breitbart has helped create for them.
It's clear any success of Bannon's campaign moving into the 2018 midterm elections will not rely on popular support from party leaders, but rather on any potential ability to persuade primary voters to back his preferred candidates.
But if Bannon's chosen candidates in 2018 do manage to win any primary campaigns (and are not subsequently accused by multiple people of child molestation), the GOP establishment may have no choice but to hold their noses and support them — just as they did with Trump in 2016.