Black women fueled a grassroots movement in Alabama — and may remake state politics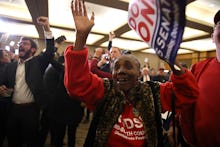 SELMA, Ala. — The door of the Dodge Charger could not be closed. Jarvis, the 36-year-old black man wearing a red hoodie in the passenger seat was a potential voter. He'd praised Ainka Jackson's efforts moments earlier.
"I love what y'all are doing!" Jarvis yelled. Jackson had squeezed between the Charger and a pickup truck to keep Jarvis from closing the door and driving off.
Jarvis said he understood that voting in Tuesday's special election for Alabama's open Senate seat mattered, but he hadn't cast his ballot as of that afternoon. Speaking with Jackson, he expressed sympathy for Alabama's homeless population. He wants to help, he said.
"MLK, [he] died doing this stuff," Jarvis said to Jackson. Civil rights leaders in the 1960s were beaten for demanding a right to vote two miles from where he stood. "It's time for us to step up."
Jackson's "Vote or die" canvassers, who knocked on doors for weeks to push voters to the polls for Democratic candidate Doug Jones, were there watching Jackson engage with Jarvis. He eventually left the passenger seat of the Charger to continue the dialogue.
As they spoke on Election Day, Jackson pivoted each point Jarvis raised about the state of affairs for blacks in Alabama — drug use, low wages, unfair treatment by police — back to the ballot box. She suggested he bring food to the local homeless community. Finally, Jarvis, who declined to give his last name to Mic to maintain his privacy, explained why he hadn't voted.
"I didn't vote today because I don't have my ID," he told Mic. In Alabama, the rigid voter ID law prevented at least 100,000 people from voting according to an estimate in March from the NAACP Legal Defense Fund.
But it wasn't enough to keep black voters in Alabama from putting Jones over the top on Tuesday — the Democrat defeated his embattled Republican opponent, Roy Moore, by a slim 1.5%.
Statewide, 96% of black voters supported Jones. They made up 29% of the electorate, a larger share than when Barack Obama was on the ballot.
An analysis of exit polling shared with Mic by Democracy in Color, a group that pushes for investment of organizing of minority voters, found 36% of Jones' total votes came from black women alone. Exit polls show Jones won 96% of the total black vote and support from 98% of black women.
Groups like Black PAC, Priorities USA, Black Voters Matter and Southern Elections Fund targeted black voters across Alabama to help the Jones campaign land Democrats their first Senate seat in the state since 1992. These groups are either black-led or hired black leaders, many of them black women, in Alabama to push black voters to the polls.
Nearly $4 million was spent on digital advertising or field organizing that targeted black voters alone, according to figures provided to Mic by groups in the state. That was the largest program of its kind for Alabama in generations, organizers said.
Campaign officials and grassroots organizers in Alabama told Mic that the political engagement they've seen in Alabama this year is the highest since the Civil Rights movement.
John Merrill, the Republican secretary of state, predicted turnout of 25% for the December election. However, more than 40% of voters showed up, with surges well beyond 50% in counties favorable to Jones.
That energy and outside support made up for the decimation of the state's Democratic political infrastructure that followed Republicans winning control of the Alabama legislature in 2010.
Anthony Daniels, the state's House minority leader since February, told Mic the state party did not maintain a current list of all Democratic voters in Alabama — a crucial file for campaigns. "Not one dime" came from state Democrats to support Jones in Birmingham, said Richard Mauk, the Democratic chair of Jefferson County, the state's largest county.
Mic contacted the state party, but a request for comment was not returned.
Mark Kennedy, a former Alabama Democratic chairman who resigned after disagreements with party leaders, said most candidates only interact with the state party when they deposit their $3,500 filing fee.
"You wave goodbye as you walk out the door because you probably won't see the Alabama state party, as an institution, doing what political parties in other states do," Kennedy said. "There are a lot of enthusiastic Democrats. They work hard, every day, to support their party. [But] you won't find any financial support coming from [the state party]."
Democratic Party county leaders, grassroots organizers, elected officials and others Mic spoke to said Jones' victory shows they can again win in the South. But they cautioned that the state's weak Democratic infrastructure requires sustained investment if more members of the party are to follow in Jones' footsteps. The same decimation is true across the South. Democrats had full control of five Southern state legislatures in 2008. By 2012, they controlled none.
It's not fair to call Alabama a red state, officials and organizers argued, because Democrats let their political infrastructure collapse. They point out Republicans now have institutional advantages — like the voter ID law that deterred Jarvis from voting — that suppress Democratic voters.
Historically, it was activism in Alabama during the civil rights movement that was critical to the passage of landmark legislation like the Civil Rights Act and the Voting Rights Act. But the latter's provision that nine states, mostly in the South, be granted federal approval before changing their election laws was struck down by the Supreme Court in 2013, which has allowed the proliferation of laws that suppress the turnout of minority and Democratic voters.
Democrats Mic spoke to this week said the formula for a comeback in 2018 is simple. Their goals for next year include rebuilding the state party, challenging incumbent Republicans in every legislative and statewide race, electing more progressives in local elections and combating prominent Republican incumbents, like Rep. Mo Brooks, one of the nation's most conservative congressman since 2011.
Multimillion-dollar investments from groups outside Alabama helped to kickstart that progress, alongside the Jones campaign, by investing in the basic political infrastructure to identify, talk to and turnout Alabama's black Democratic base.
"The idea of letting a seat go, because nobody can beat you, that idea is now gone. That is shattered," said DeJuana Thompson, a black woman who coordinated a more-than-$2 million statewide campaign to increase turnout of black voters on Tuesday after Jones' win. "The increased impact was because of increased intentionality. You would not have had that without those [grassroots] efforts."
Turning out rural black voters
Alabama's "Black Belt," named originally for its black topsoil and now known for its predominantly rural black population, is a string of 12 counties, identified by the state, through its central region. As a percentage of the total population, the state has fewer black residents than Maryland, or surrounding southern states.
But black voters play a crucial role in Alabama's elections, and to mobilize them, Brown said she crowdfunded $200,000 a week before the election for her group, Black Voters Matter. That paid for 460 canvassers to work with 30 organizations across 19 Alabama counties in the Black Belt and beyond.
Jackson, the organizer in Selma, received support from Brown to canvass for the election. The result of time and efforts led by local organizers was two-fold, Jackson and Brown said: for one, local messengers were more likely to connect with the community, and secondly, dozens of community groups in the Black Belt are now networked and experienced for the next election and beyond.
"This is not just about [this] election. This is the work we need to do to help communities," Jackson said. And doing that work continuously will lead to more wins for Democrats, she said.
"If we just invest in the South, things don't have to be this way anymore."
In the 12 Black Belt counties, which includes Dallas County, home of the city of Selma, Jones won an average of 73.4% of the vote in counties with turnout that averaged 45.4%, about five percentage points higher than the state average, a Mic analysis found.
Though Jones took the Senate seat, national black organizers say they struggled to attract the level of investment they wanted in black voter outreach. Before October, there was talk of spending at least $10 million and months knocking the doors of black voters in Alabama, said Aimee Allison, president of Democracy in Color, a group founded in 2016 to push for more investment in organizing minority communities.
When Obama was president, turnout among black Americans rose to historic levels. That led Democrats to take black voters for granted, Allison said, leading to a drop in black turnout in 2016 and other 2017 special elections.
The Democratic National Committee said Tuesday it invested $1 million in support for Jones, with a focus on reaching black voters. Tuesday's win showed those communities are key to helping Democrats take elections anywhere in the country, Allison said.
"The larger progressive movement recognized something we have been trying for decades to get them to see," Allison said of Tuesday's black turnout. "A veil has fallen from the Democratic establishment."
Boosting the Democratic base
If some considered the investment in Black Belt organizing to be insufficient, that was not the case in Alabama's largest cities.
Black PAC, an independent, black-led organization, spent $2.1 million to knock on half a million doors in Alabama's urban areas, while a Democratic super PAC, Priorities USA, spent $1 million on digital ads to persuade black voters statewide.
Woke Vote, a group that organized at historically black colleges and universities, had dozens of students working on 12 Alabama campuses to turn out younger voters. The group received 11,000 signatures on a petition promising to cast a ballot, Thompson told Mic.
And Righteous Vote, a group focused on turning out black churches, had 120 captains representing 146 churches across Alabama, Thompson said. She said the combined congregations of those churches numbered beyond 300,000 people.
Thompson said she raised $400,000 from donors outside Alabama to fund those two black voter mobilization efforts. The effort was unlike anything Alabama voters had seen in generations — overall, 80,000 people told Thompson's organizers they would vote.
"I absolutely feel like we built a memorial to the idea that if you invest intentionally, strategically and intellectually into African-American communities, you're going to always see a return," she said. 
Meanwhile, Jones said in his victory speech his campaign knocked on 300,000 doors and made 1.3 million phone calls in the final seven weeks of the campaign. Those efforts focused on informing potential Democratic voters of his platform, particularly African-Americans, in counties where Jones would need to run up wide margins of victory.
Birmingham's new Democrat mayor, Randall Woodfin, knows about pulling off an upset through high turnout in the state's largest city. In October, Woodfin shocked the city's political establishment by defeating the incumbent Democratic mayor by 18 points. To increase turnout, Woodfin began organizing voters in the city's 99 neighborhoods nearly a year before his election.
As he was mobbed by fans at Jones' victory party on Tuesday, Woodfin said Jones' team was able to harness a similar turnout model, focusing on areas of the city that are traditionally overlooked. Grassroots energy was "100%" critical to Jones' success, Woodfin said.
"Doors. Doors. Doors. Turn ya folk out," the 36-year-old mayor said. When asked if he was pleased with Birmingham's performance — the county gave Jones 83,000 more votes than Moore, quadruple Jones' margin of victory — Woodfin added, "Whatever word is more than happy, that's what I am."
That outreach delivered votes. The counties home to Birmingham, Mobile, Montgomery and Huntsville, the state's four largest cities, produced nearly half of Jones' statewide vote total.
Jones won an average of 63.4% of the vote across the four counties, which had an average turnout about three points higher than the rest of the state. In 2016, Hillary Clinton lost two of those four urban counties, and only won Jefferson County by six points.
After the secretary of state told elections officials to expect low turnout, long lines formed at some precincts. Andrea Curtis, a 46-year-old black woman, said she waited nearly two hours to cast her vote for Jones at the Aldersgate United Methodist Church in Montgomery. Her daughter, Bobbi Curtis, who turned 18 two weeks before the election, waited behind her.
"I'd like to be able to say, 'I was there. I saw the crowd,'" Bobbi said of casting her first vote in such a contentious election.
"She said she wanted to live through something epic," Andrea said. "Well, this is something epic."
Andrea said targeted outreach to the black community pushed her to the polls. She received a postcard, phone calls, text messages and emails, and canvassers reminded her to vote.
"People really, really cared this time," Andrea Curtis said. "I'm going to remember if you want to get all your voters out, you've got to use all your techniques."
The future for Democrats in Alabama
Smack in the middle of the fifth congressional district is Huntsville, Alabama's second-largest metropolitan area and its most-educated. The "Rocket City" is known for NASA, its biotech industry and high number of advanced degrees. It is also the city that launched the radio career of Sean Hannity in the early 1990s.
On paper, Peter Joffrion may look like an underdog— the former Huntsville city attorney announced in June he will run as a Democrat to take on a Rep. Mo Brooks, a Republican congressman who represents northern Alabama and won re-election in 2016 by a two-to-one margin.
Brooks is considered one of the most conservative members of Congress. A member of the Freedom Caucus, he ran in Alabama's Senate Republican primary earlier in 2017. He lost to Moore, but subsequently endorsed the Republican, standing by him as others abandoned the scandal-plagued candidate.
Joffrion and his team called Tuesday's Senate race a "dress rehearsal" for 2018. The district was held by a Democrat from 1990 to 2008. His team believes there is a well of black and progressive support waiting to be tapped in northern Alabama, a base on display Tuesday as Jones easily won Huntsville — part of a county Clinton did not win in 2016. Brooks took the House seat in the 2010 Republican wave, and hasn't faced a serious challenger since.
"You have to look at what happened systemically with the Democratic party in the state of Alabama," said Joffrion. "It imploded, almost immediately."
The odds are still long for Democrats in Alabama in 2018. They have to rebuild from that implosion. But leaders are adamant the work is beginning and will continue after the Jones election.
"I'm not gonna put up with that crap [anymore]," Daniels, the minority leader, told Mic. "Those days are over."
Earlier in 2017, Alabama's Democrats started from what seemed like square one. Democrats in the state House built a website. They also began meeting regularly. Leaders of grassroots groups, like Indivisible or Our Revolution chapters, began to seek roles to reshape the state Democratic party. Jones' campaign and other groups gathered a wealth of data on voters — enough to begin finding the Democratic base. Millions of dollars poured into the state to build infrastructure to support Jones' election, forming connections that will lead to long-term organizing statewide.
"It's very hard to win people that you don't talk to," said Guy Cecil, whose Priorities USA super PAC spent $1.5 million on digital advertising to support Jones. He said a key lesson learned from 2016 that Democrats applied in Alabama was the need to target and motivate the right voters.
"You're so wrapped up moving from cycle to cycle ... it's easy to lose track of long-term investments that need to be made," Cecil said. "We should be relying on people who were already on the ground. They need resources."
Selma 2.0
Back in Selma, Jackson says that the conversation she had with Jarvis goes hand in hand with her "Selma 2.0" initiative, her unofficial label for efforts to improve the historic city decades after the civil rights "foot soldiers" marched across the Edmund Pettus Bridge. Jackson says the outside investment she received to organize for the elections sparks the conversations that will drive lasting change in her community.
She could not get Jarvis to cast a ballot, though. However, she offered him her business card and repeatedly encouraged him to contact her, asking him to help her take food to the homeless around Christmas. Jarvis accepted.
"Voting is one step," Jackson told Jarvis. "Voting ain't the end all, be all."