After allegations against Johnny Iuzzini, ABC pulls 'The Great American Baking Show' off the air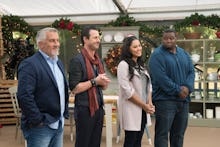 On Wednesday evening, ABC announced that it will no longer air the rest of season two of The Great American Baking Show, after Mic published allegations from eight women who have spoken out against celebrity judge Johnny Iuzzini. The premiere aired Thursday, Dec. 7.
In late November, four former employees who worked under Iuzzini at New York fine-dining institution Jean-Georges spoke to Mic about allegations of sexual abuse and harassment. After reviewing the claims, Iuzzini denied several of them. "Many of the other allegations are inaccurate, others I do not recall and none were meant to hurt people," he said in a statement. On Tuesday, Mic published allegations of physical threats and sexual misconduct from four more women who worked with or under Iuzzini at Jean-Georges. The alleged incidents ranged from 2004 to 2014.
In a statement sent out Wednesday, an ABC spokesperson said, "In light of allegations that recently came to our attention, ABC has ended its relationship with Johnny Iuzzini and will not be airing the remainder of The Great American Baking Show episodes. ABC takes matters such as those described in the allegations very seriously and has come to the conclusion that they violate our standards of conduct. This season's winner will be announced at a later date. Episodes of The Great Christmas Light Fight and CMA Country Christmas will take its place this week and next."
Iuzzini issued his own statement on Thursday: "While I understand ABC felt pressured to make this difficult decision, I am extremely disappointed and saddened that the show will not continue to air as scheduled. I feel terrible for the bakers, fans of the show, the cast and everyone else involved in the production. I stand by my apology for some unprofessional behavior eight to 10 years ago, but the sexual harassment allegations and many other reports against me were sensationalized and simply not true.  
My friends, family and those close to me can attest that over the last several years I have worked hard on improving myself and made many positive contributions to the industry in which I dedicated my life. Nonetheless, I will use this experience as another opportunity in my life to listen, learn and continue growing as a friend, family member, chef, mentor and as a human being."  
Dec. 14, 2017, 4:38 p.m.: This story has been updated with Iuzzini's statement.