Loungewear as self-care: When the going gets tough, the tough get cozy.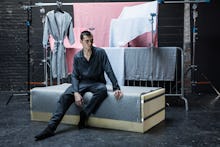 If you're reading this and you've been a sentient being for most of 2017 (that includes you, Sophia), you know this year has been a wild ride, to put it mildly. 2017 has been so anxiety-inducing that any news notification brings on the same Pavlovian response, flop sweat, even "good news." I'm so used to bad news, my brain can no longer distinguish between a headline about a natural disaster and one about "weekend brunch recipes to try."
We try to stay involved, engaged and informed, but there's only so much one person can do to change the world outside their door. We do have the power to change one thing: our clothes — specifically, changing out of our jeans and into soft pants.
It's been observed that millennials are streaming more, relaxing more and, in general, staying in more. You could attribute this trend to any number of factors. I happen to think Gudetama, Sanrio's anthropomorphized agoraphobic egg, can take some credit. See also, the rise of the hygge and còsagach hashtags. More substantially, I can't help but draw a connection between millennials' love of lounging and their penchant for seeking out self-care. There's probably a sizable overlap on a Venn diagram that plots people who use the self-care app Aloe and people who own multiple silky pajama sets.
On the off chance they're required to leave the house, millennials looking to stay cozy and chic have more options than ever these days. Silky pajamas styled as daywear have been a staple of the street style set for years, but they've enjoyed a recent return to runways (like the reconstructed versions Thakoon showed for spring 2017). Noted millennial Gigi Hadid has been spotted more than once by the paps in a menswear-inspired pajama set. If you needed more proof that we're reaching peak cozy, venerable velour tracksuit peddler Juicy Couture is back, with a slick ad campaign and a Vetements collab.
Another recent entry into the luxe loungewear sector comes from NYC label Outlier, known for its commitment to high-quality, technical fabrics. Founders Abe Burmeister and Tyler Clemens just launched their Outlier Indoors collection, a new line that includes washable merino wool separates made for TV binges and bodega runs. "We've been wearing our tees to sleep and for lounging for years so stepping it up into pajamas and house clothes was a natural next step," Burmeister said in an interview. These aren't your father's fuzzy PJs.
Loungewear as daywear isn't just about elastic waistbands, though. It's deeply casual dressing appealing to those of us for whom athleisure feels like a betrayal of personal truth. We are headed neither to nor from the gym, and we refuse to front like that anymore. Should you be so lucky to catch us out of the house, please know that we are headed directly from bed and are excited to return there soon. In the interim, we're going to look and feel glamorous, all while wearing pants without zippers.
Personally, I'm an easy sell on soft clothes as day wear. I've been ready to wrap myself in a fur-lined house coat and call it a night since Marc Jacobs showed elevated pajamas for Louis Vuitton's fall 2013 collection. My favorite outerwear piece is an oversized gray fuzzy belted coat. It has, on occasion, given the impression to a cashier that I've gone to the grocery store in my bathrobe — and I couldn't be happier about that.
Some days, the outside world is a lot to handle, and the last thing I want to worry about is feeling uncomfortable in my outfit. If it takes a little TLC cosplay to help me get through my day, so be it.