'The Crown' costume designer on dressing Queen Elizabeth II, Princess Margaret and Jackie Kennedy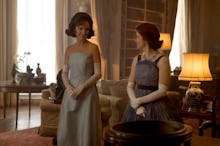 Words that describe the look of Netflix's The Crown: sumptuous, opulent, luxurious, lavish, stunning — we could go on. So naturally, the style on the show rules.
With almost an entire show about literal royalty, every episode of its second season has felt like a bit of a fashion show, with extraordinary gowns, jewels, hats and accessories. As Mic's written, Princess Margaret's style this season was particularly amazing, featuring coats in bright colors and patterns as well as satin robes that we can only lust over. The other characters looked fabulous too, from the queen (as played by the perfect Claire Foy) and her matching ensembles to a new guest star this season: Jackie Kennedy (played by Jodi Balfour).
Mic spoke to The Crown's costume designer, Jane Petrie, about all of this, and the work that goes into recreating history.
Mic: So I know that this is your first season working on the show. Were there things that you were eager to bring to the show and its costuming now that we're in the late '50s and early '60s?
Jane Petrie: It's a very different outside world we start in. We were doing the forward propulsion of the outside world of London in the swinging '60s and all of the change and social upheaval of the period.
We focused a lot more on the background and the crowd in the outside world. We did a lot more storytelling there. That was one thing we felt like we should push, showing the queen becoming distant with the people and Margaret more in touch.
In what ways did you use fashion to mirror or reflect the queen's arc and evolution this season?
JP: When we started off, she still had her nipped-in '50s waist and then we finished with her waist thicker, because she's had her children and her motherhood.
By the end of our season... I think the way that the queen looks now, even, has residue in how she starts to look in the early '60s. You can see that she'd found a shape that works for her figure. She's found what she likes. Her clothes don't ever give any surprises. Her hem's never going to blow up and a hair is not ever out of place. At the end of season two, she's nailed what her clothes need to do for her to do her job and I think that's where we arrive.
At the end of season two, she's nailed what her clothes need to do for her to do her job and I think that's where we arrive.
And what about Margaret? How would you describe her style evolution this season? I noticed myself that when we first see her, the colors she wears are muted, but after she meets and then marries Tony, there are blues and reds.
JP: A lot of the Margaret color choices, as we went into the '60s, was something I definitely had to work with. The colors helped in putting her in touch with bohemian London and that midcentury cool. She's more SoHo and there are blacks in her costume that you wouldn't have in the queen's clothes. It makes it edgy and a bit cooler and more modern.
Since you are dressing characters that actually existed, do you look back at archive images often and try to recreate specific looks?
JP: I usually start off looking at the very obvious. A bit of online research at the beginning, because these are characters and I have to think, is this person who I'm really thinking of?
So I do a basic, broad brush stroke of research at the beginning and then I use a lot of magazines, documentaries and I like looking at news reels also. Street photography and early color and anything that can give me a glimpse of what the world even worked like for any film I work on. I really want to start feeling like I understand the part of the world I want to show.
Are these pieces we're seeing on the show all custom-created, or are you able to sift through vintage clothing?
JP: I'd hoped to find more vintage than I did! We made everything apart from a few dresses the queen wore and a few day dresses. We made everything for Margaret and the queen mother. Most of it was made for those main characters. But I think as [the show] comes forward in time, you may get some brilliant vintage in there.
As much as possible for me, I used original shoes, brogues, hats and accessories. That's the giveaway. If you get a pair of shoes made to look '50s now, it just doesn't work. But then again, most modern women don't have small feet, so that was a big headache, getting enough pairs of good, original shoes in good condition.
It's everything from markets to Etsy to eBay. Hopefully next season when it comes to the '60s to '70s, we'll get more vintage stuff.
The Crown is known as the most expensive TV show ever. Looking back, did you have an outfit that was the most expensive to create?
JP: I don't know! I think possibly the most expensive would the butterfly dress that Margaret had on for her birthday photograph. That's probably quite an expensive dress with all the embroidery.
I know in the very closing sequences when they do the family portrait, Margaret's suit there was really, really expensive blue lace, because we were in an absolute rush and we had to do it.
When I first got the job, I'd read the script and did the budget for what I thought it would cost and as scenes were written, then it'd be an additional cost. For instance, that scene with the Nazi officers, I think we had 500 Nazis and there were some crowd as well as civilians, so 600 people. And when I read that scene, I didn't read that as 600 people. I thought maybe 150 or something, so when I was given a crowd number, it was eye-watering to do that.
We got a very special guest star this season — Jackie Kennedy. What was it like to dress that character, compared to the queen? I understand you changed the her dress a bit, and made it strapless.
JP: I took some because the actress, Jodi Balfour, is a different shape than Jackie, and I was following the narrative our interpretation of the events.
So sometimes I just think, 'Oh, this feels right for what we're doing.' We're keeping within parameters that still feel honest and you're kind of doing it authentically, but you're trying for an interpretation of reality and not a straight copy.
If we did straight copies all the time, we wouldn't be filmmaking. When you're doing something that's very glamourous and people are familiar, you can heighten things. We're not doing a drama documentary, we're doing something else.
Looking to next season, are you going to be working on it? Is there anything that you're itching to bring into the show as it goes into the late-'60s and '70s?
JP: It's too soon for me! I need a break and a bit of family. The Crown is intense and insane and it's a whole year. I'd love to do another one and I hope I will.
I guess the next one will go from '62 to '72. Well, I think the queen and queens mother's hats have become really good fun. They'll have fun with that, I love all that. I haven't looked forward to what's coming, but there's stuff that pops up in the details.
Margaret must be having great stuff, right? The Crown's so unpredictable that they'll hone in on some really unexpected story and have so much fun with that.