Newly debuted 'America's Next Top Model' cast underwhelms with only 2 non-straight-size models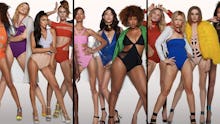 This is what we'd call progress... ish. On the new season of America's Next Top Model, which airs on Jan. 9 on VH1, not only is Tyra Banks making her grand return to the series, but so are curve models.
Judging by the Top 14 that debuted on Wednesday, viewers of cycle 24 will be treated to at least two women who are curvier. That's a step forward from last season which, despite having Ashley Graham as a judge, had no plus-size or curve models.
Among the curvier models this coming season is Khrystyana Kazakova, who calls herself a body-positive activist, and Ivana West.
ANTM has had a tricky history with plus-size and even curvy models. In cycle three, there was Toccara Jones, who was repeatedly treated poorly at photoshoots throughout the season. And there's just been one plus-size ANTM winner: Whitney Thompson, from cycle 10. Other than that, they've been largely absent.
It's something that actress Danielle Brooks pointed out in 2016, after seeing no plus-size contestants last season. "A curvy judge but no curvy contestants?" Brooks wrote on Instagram. "Out of all 28 girls not one was plus. You had an Asian, African, a redhead, transgender, an androgynous sister, even twins... (much love for that) but not one plus-size woman — when 67% of women are plus in the U.S.??"
Taking a closer look at the group, which had no age limit this season, there are a few models who are much older than your typical model — Christina Anderson-McDonald, who's 34, though you'd never know it, and Kazakova, who's 32.
Overall the group appears to be racially diverse, which is something ANTM has continued to get right cycle after cycle.
Mic has reached out to VH1 for comment.