Does the US have a North Korea strategy? Tillerson and Trump can't get their story straight.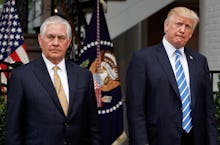 Is it a classic "good cop, bad cop" routine?
Or is it that the Trump administration can't get its strategy straight on North Korea?
On Tuesday, Secretary of State Rex Tillerson seemed to announce a major policy shift on the Korean peninsula, telling the Atlantic Council in an address that the United States would be willing to talk to North Korea without conditions.
"We are ready to have the first meeting without precondition," Tillerson told the think tank. "Let's just meet. We can talk about the weather if you want. We can talk about whether it's going to be a square table if that's what you are excited about."
"It's not realistic to say we are only going to talk if you come to the table ready to give up your program," Tillerson added.
But, hours later, press secretary Sarah Huckabee Sanders said that the administration had not changed its position and suggested that it does, in fact, view negotiations as being contingent upon Pyongyang giving up its nuclear program.
"The president's views on North Korea have not changed," Sanders said. "North Korea is acting in an unsafe way not only toward Japan, China and South Korea, but the entire world."
The mixed messages were the latest example of an administration struggling to address one of its most vexing foreign policy predicaments — and of a secretary of state who appears increasingly at odds with his boss.
U.S. strategy on North Korea unclear
It's been hard to pin down the Trump administration's strategy in North Korea.
Tillerson has publicly supported diplomatic solutions — albeit a bit clumsily, perhaps — on the peninsula, claiming he'll work toward a peaceful solution "until the first bomb drops."
But President Donald Trump has suggested that his secretary of state is "wasting his time" in attempting to engage in talks with North Korea, which he threatened to "totally destroy" in a bizarre, fiery speech to the United Nations General Assembly in September.
Those seemingly contradictory messages indicate the administration has "no coherent strategy" on the peninsula, according to Stephen Miles, director of Win Without War — a progressive foreign policy advocacy program of the Center for International Policy.
"It's clear that when it comes to North Korea, the Trump administration has no idea what it's doing," Miles said in an interview Thursday. "It's amateur hour, except they're playing with nuclear weapons. It's beyond terrifying in its recklessness."
Tensions between the U.S. and North Korea have been escalating for months amid a war of words between Trump and Kim Jong Un.
Trump has promised "fire and fury" against North Korea, while the Kim regime has said an attack on the U.S. mainland was "inevitable."
The heated, frequently puerile, long-distance bickering between Trump and Kim has raised concerns that the two could inadvertently "blunder" their way into a war, as the Guardian put it.
Russia said recently that it believes it can bring North Korea to the negotiating table with the U.S., but it's not clear what, if anything, each side would be willing to concede.
Contradictions highlight Trump's tensions with Tillerson
The White House's swift correction to Tillerson's statement on negotiations also seems to reflect the secretary of state's tenuous future in the administration.
Rumors that his relationship with Trump is strained have been around since at least October, when it was reported that the secretary of state had described the president as a "fucking moron" and that Vice President Mike Pence had needed to convince him not to resign over the summer.
But Tillerson had denied those reports, saying he had "never considered leaving this post."
Late last month, though, it was reported that Trump has "soured" on his secretary of state and plans to replace him with CIA director Mike Pompeo — a close ally of the president.
Trump immediately denied the suggestion, saying Tillerson is "not leaving" and insisting that they "work well together."
But Sanders did not deny the possible game of musical chairs, saying that "there are no personnel announcements at this time."
And when he was asked in person by reporters if he planned on firing Tillerson, Trump merely said, "He's here. Rex is here."