Report: Donald Trump still doesn't believe Russia meddled in the election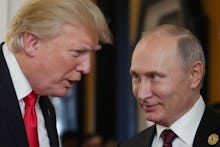 Despite multiple attempts by senior aides to try and get him to accept the intelligence, President Donald Trump still, over a year after his election, doesn't believe that Russia meddled in the 2016 presidential election, according to a Washington Post report published Thursday morning.
The effort to try and convince Trump of the intelligence community's conclusion that Russia meddled in the election began on Jan. 6, two weeks before he took office, according to the Washington Post report. Now, Trump is hindering the U.S. from trying to prevent future Russian election meddling attempts.
Not one Cabinet meeting to address the Russian meddling has been held, and the State Department has still yet to push to fight back against Russian propaganda that seeks to influence American voters. Meanwhile, there's no government task force focused on finding ways to prevent future Russian meddling, according to the Post.
In fact, in the months since, Trump said publicly in November that he believes Russian President Vladimir Putin's denials over his own intelligence community — though it was a comment Trump was forced to walk back a day later.
That echoes what Democratic lawmakers told Mic in November.
"Unfortunately, we're hardly safer now from Russian interference in our elections than we were last year," Rep. Eric Swalwell (D-Calif.), who is part of the House Intelligence Committee's Russia investigation, told Mic. "We're still struggling to expose the breadth of Russia's meddling, and our lack of unity lets Russia sharpen its knives as our midterm elections approach."
In fact, as special counsel Robert Mueller investigates whether the Trump campaign or Trump himself had anything to do with the Russian effort to influence the election, GOP members have now started a campaign to delegitimize the probe, with a number of House Republicans calling for another special counsel to investigate Mueller's investigation.
Meanwhile, conservative groups are beginning to appear on Republican-friendly media outlets like Fox News to sow doubt in the FBI's objectivity — going as far as to comparing the top federal law enforcement agency to Russian spy agencies.
"I think the FBI's been compromised," Tom Fitton, a conservative activist and the president of conservative group Judicial Watch, which played a role in pushing the Hillary Clinton email investigation, said on Fox News Wednesday.
"Forget about shutting down Mr. Mueller. Do we need to shut down the FBI because it was turned into a KGB-type operation by the Obama administration?" he asked.
It's unclear what the government will do about the Russian attempt to influence American politics going forward. But according to the Post, Trump is unlikely to fully accept the conclusion that Russia interfered in the election.
"If you say 'Russian interference,' to him it's all about him," a senior Republican told the Washington Post. "He judges everything as about him."