How there could be a government shutdown next week — and how Congress could avoid it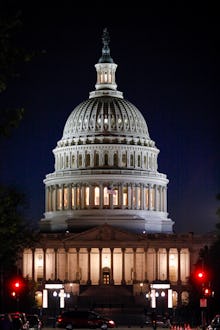 Welcome to Mic's daily read on Donald Trump's America. Want to receive this as a daily email in your inbox? Subscribe here.
Thursday's dispatch: We are a week from a potential government shutdown
As the year draws to a close, Congress and President Donald Trump hope to pass a slew of legislation in the next week. But the shift in the Senate after Tuesday's Alabama special election, tense negotiations on tax reform, mounting pressure to protect immigrants and the hospitalization of Arizona Sen. John McCain on Thursday are giving lawmakers a narrow path forward.
Alabama Senator-elect Doug Jones is not likely to be seated until next year, which maintains the Republican majority of two seats in the Senate, a critical threshold to pass tax reform. And Congress has until Dec. 22 to pass legislation to avert a government shutdown.
Sen. Susan Collins (R-Maine) has come under renewed pressure from activists to oppose the divisive tax legislation. Collins has held out on saying whether she will support the final tax plan, which the Senate will likely vote on next week after it passes the House. Collins said Wednesday she believes subsidies to protect the Affordable Care Act will be in the final government funding bill.
Collins had demanded those payments to make the cost of ACA insurance more affordable, but House conservatives oppose it. Those subsidies have also been demanded by Democrats as part of a year-end spending bill.
Therein lies the rub: A compromise between House conservatives and Democrats will be hard to strike to reach the 60 votes required in the Senate to maintain government funding. Democrats and Republicans like Collins may face the choice of shutting down the government or approving legislation that doesn't meet their key demands.
Republicans are already making moves toward the latter. House conservatives reportedly won the support of GOP leaders to pass a bill that funds the government until Jan. 19 while funding the Department of Defense for one year. The House would then leave town — daring the Senate to not pass the measure and shut down the government.
Furthermore, large progressive and immigrant groups are angry that Democrats appear unwilling to force a showdown over protecting recipients of the Deferred Action for Childhood Arrivals program in exchange for government funding.
It was reported Thursday that Sen. John McCain (R-Ariz.), who has brain cancer, has been hospitalized in Washington. Sen. Thad Cochran (R-Miss.), a Republican senator who had a urinary tract infection, has not voted in the past few days.
The next week will require congressional leaders to thread the needle between pleasing moderate senators and House conservatives. And they must be wary of too much heat building up from activists on the left, who will push members of Congress to only fund the government if they win certain provisions.
Today's question: Do you think Republicans and Democrats will reach a compromise to keep the government open?
Please email us at trumpsamerica@mic.com with your thoughts.
Thursday in Trump's America:
Final tax deal: The Wall Street Journal reported Republicans in the House and Senate have reached — for now — consensus on their tax plan. The House will move to pass the bill early next week, followed by the Senate — all ahead of Friday's deadline to fund the government.
The final bill would lower the corporate tax rate to 21% instead of 20%. The top individual tax rate would be lowered to 37%. The total tax cut remains tilted heavily toward benefiting wealthy Americans and large companies, and over a decade is projected to amount to $1.4 trillion.
Russia: The Washington Post reported Trump maintains that Russian hackers did not influence the 2016 election, as he works to strengthen a relationship with Russian President Vladimir Putin. Aides close to Trump said he rejects the intelligence assessment as his administration has rolled back some sanctions on Russia.
On Wednesday, Deputy Attorney General Rod Rosenstein said he has yet to see a reason to fire special counsel Robert Mueller, who is investigating Russian interference in the 2016 presidential election.
Alabama fallout: The Steve Bannon and Senate Majority Leader Mitch McConnell (R-Ky.) wings of the Republican Party are heaping blame on each other for Roy Moore's loss in the Alabama special election. McConnell's supporters hope Moore's loss will dampen Bannon's ability to recruit other anti-establishment Republican candidates in 2018.
As Mic's Andrew Joyce writes, this may be exactly the kind of division Bannon hopes to sow. Doug Jones' election was a victory over Trumpism, with the voting in of an Alabamian with a long legacy of championing civil rights.
Happy Democrats: The party has performed 12 percentage points better, on average, than would be expected in the 70 special elections so far this year, FiveThirtyEight reported. There is a growing trend of college-aged white women turning against Trump, and after Virginia and Alabama's elections, signs are indicating black voters will surge to support Democrats.
Interest rates: Cut through the noise and understand how the Federal Reserve raising interest rates affects you.
Protests: Demonstrators arrested for protesting during Trump's inauguration still face the prospect of spending decades in prison.
Omarosa out: Omarosa Manigault Newman, the former Apprentice star, announced Tuesday she's leaving the Trump administration. The story of her being fired and reportedly being dragged from the White House went public Wednesday. The Secret Service and Manigault Newman challenged that account, saying she resigned.
Franken's seat filled: Minnesota Gov. Mark Dayton appointed Lt. Gov. Tina Smith to replace Sen. Al Franken (D-Minn.) in the Senate. Franken announced last week he would resign following several allegations of unwanted sexual advances and groping.
Infrastructure? Not so fast. Democrats are already throwing cold water on working with the White House in 2018 to pass a plan that Republicans say will invest $1 trillion in American infrastructure. And with a one-seat majority in the Senate after January, the GOP will be hard-pressed to find the 60 votes to pass the measure.
Puerto Rico: Almost three months after Hurricane Maria, nearly a third of the U.S. territory is still without power. And thousands of businesses remain closed.
Today's MicBite:
The FBI has a long history of demonizing black people. Mic's Aaron Morrison explores that legacy — and explains how its still happening.
Correction: Dec. 14, 2017