People of color landed on more than 32% of magazine covers this year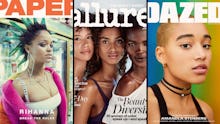 Magazine covers are finally following the lead of fashion runways and ad campaigns, with more models of color appearing than ever on record.
In a report from the Fashion Spot that analyzed 782 cover appearances across 49 international fashion magazines, they found that 32.5% of covers featured people of color, which is a 3.5-point increase from 2016.
So 2017, according to the Fashion Spot, marks the first year in which runways, ad campaigns and international fashion magazines covers all passed the 30% racial diversity marker.
Among the most racially diverse magazines this year were Vogue Arabia, which had only models of color this year, Vogue Taiwan, Vogue India, i-D, Paper, Allure and Dazed. The least diverse were L'Officiel and Marie Claire U.K., which had no models of color appearing on any of their covers this year.
Now in terms of plus-size visibility on magazine covers, here comes the downer. Only 1% of celebrities and models on magazines were a size 12 or over, meaning that just 8 covers featured a plus-size person. Five of those eight covers were because of Ashley Graham.
And as far as transgender and nonbinary models, just five covers this year featured them, matching 2016's count. Amandla Stenberg, who's nonbinary, is responsible for two of those covers, landing on Dazed and Teen Vogue. And Valentina Sampaio snagged Vogue Paris and Vogue Brazil, as well as Elle Brazil, which isn't included in the Fashion Spot's report.
Among the models most-booked for covers this year, it was all about Bella Hadid, who landed on 12 covers. After Hadid, her sister Gigi Hadid and Imaan Hammam landed 11.
What all of this shows us is that, similar to the runways, racial diversity is getting the attention it's long needed, while plus-size, transgender and nonbinary visibility continues to stall.