Exclusive: Democrats launch ad campaign tying Republican candidates to Roy Moore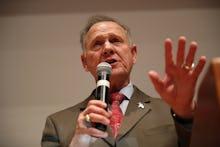 An ongoing six-figure ad campaign from the Democratic Senatorial Campaign Committee tying the GOP to Roy Moore is launching against eight Republicans running for Senate in 2018.
Mic got an exclusive look at the ads, titled "They Did Nothing," that will run on Facebook. They seek to tie Republican candidates to controversial things Moore has said — including that he didn't think women should be politicians — in an effort to taint the candidates in the eyes of voters in their respective states.
"Roy Moore doesn't think women should run for office. And Dean Heller said NOTHING," reads one of the ads that shows photos of Heller and Moore superimposed next to one another. The ad prompts viewers to sign a petition, which gives the DSCC information on the kind of voters who are frustrated with Moore. The DSCC seeks to elect Democrats to the Senate.
Polls show Moore is both known and unpopular among voters across the country. Nearly two-thirds of voters, or 63%, disapproved of President Donald Trump's decision to endorse Moore, according to a Quinnipiac poll released Tuesday, the day of Alabama's special Senate election, which Moore lost to Doug Jones.
Aside from Heller, other Republican Senate hopefuls to be hit by the ad are:
Rep. Martha McSally, who is likely to run for Senate in Arizona being vacated by retiring Republican Sen. Jeff Flake.
Reps. Todd Rokita and Luke Messer, who are vying for the GOP nomination in Indiana for the chance to take on Democratic Sen. Joe Donnelly.
Missouri Attorney General Josh Hawley, who is running to try and defeat Missouri Democratic Sen. Claire McCaskill. Hawley refused to say whether he would have voted for Moore, according to the St. Louis Post-Dispatch.
Matt Rosendale, a Montana Republican looking to oust Democratic Sen. Jon Tester.
Rep. Kevin Cramer, who is mulling running against Democratic Sen. Heidi Heitkamp in North Dakota.
Rep. Lou Barletta, who is running against Democratic Sen. Bob Casey in Pennsylvania.
Republicans worried that electing Moore would create political problems for their party in the 2018 midterm election.
However the DSCC is trying to ensure that Moore remains an issue, despite his loss on Tuesday night.
"Republican Senate candidates were wrong to do nothing in the face of Roy Moore's candidacy and his dangerous, out-of-touch record," DSCC communications director Lauren Passalacqua said in a statement announcing the ad buy.
"Unlike Republicans like John McCain and Alabama Sen. Richard Shelby, these candidates put political expediency and the interests of their party ahead of what's right, and voters deserve an explanation. The DSCC will make sure voters don't forget it," she added.