Transgender woman shot and killed in Houston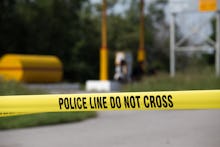 A transgender woman was shot and killed in Houston early Wednesday morning, in what is at least the 25th reported killing of a trans person so far this year — although advocates say the true number of victims is likely much higher.
Atlantis Narcisse, the founder of local group for trans women of color Save Our Sisters United, told Houston-based LGBTQ magazine Out Smart that the victim's name was Brandie Seals (activists from the group Transgender Foundation of America Houston told Mic Seals' may have spelled her first name "Brandi"). According to a post on the Save Our Sisters Facebook page, Seals also went by the name Deone.
Local outlet Fox26 Houston reported on Wednesday that Seals was 26 — although the outlet both misgendered and used an incorrect name for Seals in its reporting. According to Fox26, neighbors heard gunshots around 6 a.m. on Wednesday morning. Police responding to the scene discovered Seals' body.
Detective Fil Waters, with the Houston Police Department, said on Thursday that Seals' body was found outside of an empty home early Wednesday. Waters said there were no new updates to the investigation but that "we've gotten a couple of clues that we're trying to do some follow-up on."
Maria Cheeks, Seals' aunt, described her as a "loving" and "beautiful person." Of the trans people who have been reported killed this year, a vast majority have been trans women of color.
Arielle Gordon, a trans activist and an intern at the advocacy group GLAAD, told Mic in November that trans women of color, "year after year, face the highest rates of violence because they face three intersecting forms of oppression: racism, sexism and transphobia."