Progressives threaten to punish top Democrats if they don't demand DACA fix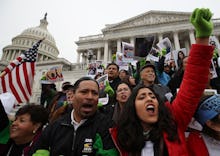 Progressive leaders said Thursday they will punish House and Senate Democrats politically, including by withdrawing endorsements in 2018, if they do not demand passage of the Dream Act by the end of the year.
Sen. Chuck Schumer (D-N.Y.) and Rep. Nancy Pelosi (D-Calif.), the minority congressional leaders, are "subtly shifting their rhetoric" regarding legislation to protect recipients of the Deferred Action for Childhood Arrivals program, potentially pushing that fight to 2018. Progressive organizations along with some aides to House Democrats say that approach is unacceptable.
A bill to keep the government open must be passed by Dec. 22. Progressive groups and dozens of House Democrats are demanding that legislation not head to President Donald Trump without a provision protecting DACA recipients from deportation, organizers and House aides said.
In September, Trump announced DACA would end in March, giving Congress six months to protect the program, which allows young immigrants living in the country illegally who were brought to the United States as children to remain. Both Schumer and Pelosi have previously made public promises to push for protection of DACA recipients before the end of the year.
"If they pass something that doesn't protect 'Dreamers,' that is a black mark that will last for a long time," Ben Wikler, Washington director of MoveOn.org, said of Democrats on a conference call Thursday. "Nobody who believes Dreamers shouldn't be deported has any business voting for a pro-deportation spending bill this year."
Wikler joined representatives of United We Dream, Indivisible, Daily Kos, Democracy for America, Planned Parenthood Action Fund and 350.org on the call to present a unified message for congressional leaders. The combined membership of those organizations is millions of progressives nationwide.
In the past day, House Democrats began shifting their strategy to pressure Pelosi to take a stand on DACA when funding negotiations break down between the House and Senate, two House Democratic aides familiar with the strategy told Mic on the condition of anonymity in order to discuss internal party strategy.
House Republican leaders have told conservatives they will pass a bill next week to fund the government through Jan. 19 and federal defense spending for a year. In the Senate, 60 votes are required to keep the government open. It's likely many Senate Democrats will take issue with giving House conservatives a win and not funding their year-end priorities — like funding subsidies to shore up the Affordable Care Act or protecting DACA recipients.
If the Senate and House come to an impasse, House Speaker Paul Ryan (R-Wis.) will likely need Democratic votes to keep the government open if he compromises with Senate Democrats — alienating House conservatives.
That would be the moment where Pelosi could demand, in exchange for Democratic votes, DACA recipients be protected as part of the deal to keep the government open, the aides told Mic. Four caucuses in the House — the Black Caucus, Hispanic Caucus, Asian-Pacific American Caucus and Progressive Caucus — are leading this charge.
The members of those caucuses constitute a majority of the 192 House Democrats.
On Thursday, progressive organizers demanded that stand come earlier. If House Republicans pass a government funding bill, they demanded Democratic senators not support the bill without protections for DACA recipients. Several Democratic senators have said they will not use a shutdown threat as leverage.
Monique Teal, senior campaigner at Daily Kos, and Neil Sroka, communications director of Democracy for America, said on Thursday's call that progressives may withhold support in 2018 for Democrats who do not vote against protecting dreamers from deportation this year.
Murshed Zaheed, vice president and political director of CREDO, promised to "hold [Democrats] feet to the fire" over the next week.
"Any vote for a spending bill by Dec. 22 that does not include the Dream Act is a vote to deport immigrant youth," said Cristina Jiménez, executive director of United We Dream, the nation's largest network of immigrant youth. "No more excuses. Deliver on your promises and get the Dream Act done before the end of the year."