Marco Rubio says he's a "no" on tax reform vote, putting the bill's passage in jeopardy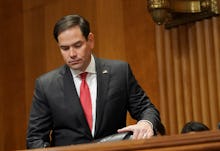 Sen. Marco Rubio (R-Fla.) told Republican leadership on Thursday that he is a "no" on the tax reform bill, unless a more generous child-tax credit is changed to benefit middle- and working-class families.
Rubio's announcement puts passage of the GOP's tax reform plan in jeopardy.
That's because Sen. Bob Corker (R-Tenn.) already voted against the first version of the plan, saying he was against the fact that the plan raised the deficit. Corker hasn't made a decision on whether he'd vote for the revised bill, but because the legislation is still going to have the deficit problem he objects to, it's unclear how he'd get to yes.
Sen. Mike Lee (R-Utah) also announced Thursday that he's undecided on whether to vote for the bill, demanding a similar change to the child-tax credit as Rubio.
And with Sen. John McCain (R-Ariz.) in the hospital, raising the possibility that he won't be available to vote for the plan, and Democratic Senator-elect Doug Jones waiting to be sworn in, Republicans are dangerously close to falling short of the 50 votes they need in the Senate to pass the bill.
Republicans have hoped to pass the tax plan by the end of next week, when Congress leaves Washington, D.C., for the Christmas recess.
Rubio's announcement hinders that timeline, with Republicans now needing to find a way to amend the bill in time.
Vice President Mike Pence already delayed a planned trip to Israel in case he's needed to be the tie-breaking vote on the bill.
White House press secretary Sarah Huckabee Sanders suggested the administration is open to working with Rubio to meet his demands on the child-tax credit. President Donald Trump has promised the tax bill will go through — if it does, it will be his single legislative victory since taking office.
"We're really proud of the work we have done already up until this point with Sen. Rubio," Sanders said at Thursday's press briefing. "We are already doubling the child tax credit, taking it to $2,000 per child, and we're going to continue working with the senator."