A Texas butterfly sanctuary is trying to fight Trump's border wall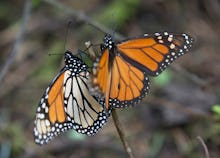 A butterfly sanctuary in Texas is suing the Trump administration over what it claims is illegal border wall construction on its property — and, according to the sanctuary's leadership, the suit is about a lot more than butterflies.
The National Butterfly Center spans 100 acres in South Texas, and is home to what it says is the "the greatest volume and variety of wild, free-flying butterflies in the nation." It's also home to native plants, endangered wildflowers and other species native to the area near the Rio Grande — and serves as a crucial stop for Monarch butterflies on their migration through the region.
According to the Texas Observer, back in July, Marianna Treviño-Wright, the center's executive director, discovered a work crew mowing down brush and using a chainsaw to fell trees on the center's property.
As the Observer reported on Tuesday, the crew had been contracted by U.S. Customs and Border Protection to clear the path for a border wall along the U.S.-Mexico border. The border wall was one of President Donald Trump's key campaign trail promises — and has stuck around despite challenges, including an estimated cost of more than $20 billion and lack of enthusiasm among Texans.
On Monday, the National Butterfly Center filed a lawsuit against the Department of Homeland Security and U.S. Customs and Border Patrol, alleging that, by beginning work on the center's property, the agencies had ignored processes required by the National Environmental Policy Act, the Endangered Species Act and the Constitution.
According to the Observer, the NEPA requires that the government perform an "environmental assessment" before beginning a project that could impact environmental resources.
According to the lawsuit, the proposed wall would cut off about two-thirds of the center's property. Jeffrey Glassberg, president of the North American Butterfly Association, which runs the National Butterfly Sanctuary, told the Observer on Tuesday that, "We believe the federal government has been behaving illegally and in a really egregious fashion in many different ways, so we're seeking an injunction to try and have the courts make them behave in a way that is consistent with the law and the constitution."
Glassberg said that the lawsuit deserves attention regardless of whether you care about butterflies. "We understand that not everyone in the country may be as interested in butterflies or in the environment as we are ... But everyone should care when the government thinks it can do whatever it wants on your private property."