Anita Hill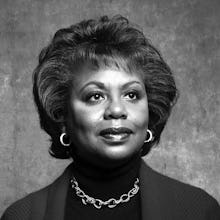 This article is a part of the Black Monuments Project, which imagines a world that celebrates Black heroes in 54 U.S. states and territories.
Years before the #MeToo movement sparked mainstream conversations about rape culture and ousted powerful men accused of predatory behavior from their positions, there was Anita Hill. In 1991, during Senate hearings to confirm Clarence Thomas to the Supreme Court, she testified that Thomas had sexually harassed her. Nearly no one believed her.
Hill, a lawyer, professor, activist and author, was born July 30, 1956, and raised in Lone Tree, Oklahoma. She attended Oklahoma State University, where she was an honor student and received her bachelor's degree in psychology. Hill then obtained her law degree from Yale Law School in 1980. After graduating, she became a legal adviser for Thomas at the U.S. Department of Education's Office of Civil Rights in 1981. Hill said the harassment began while there and continued after she worked as Thomas' assistant at the Equal Employment Opportunity Commission.
Hill was called to speak on Thomas' credibility as he sought confirmation on the Supreme Court. Initially, Hill hesitated to bring up the allegations, but ultimately decided not to remain silent. Hill said she turned down several advances to go out with Thomas. Hill also said he would force conversations on her about pornographic material he had watched.
Thomas denied Hill's accusations, and much of the all-white male panel of lawmakers also pushed back against Hill's comments, eventually leading to Thomas successfully completing the confirmation process to the highest federal court — and where he is still there today.
In 2016, HBO aired the miniseries Confirmation, starring Kerry Washington as Hill, about her battle testifying against Thomas. Although Hill was discredited for her testimony back then, now people see Hill going public with her story as a brave stand against sexual assault at a time when it was much more difficult to speak out, especially for a black woman.
Today, Hill teaches on gender, race, social policy and legal history at Brandeis University in Waltham, Massachusetts. She has also received honorary degrees from Smith College, Massachusetts College of Liberal Arts and other institutions. She is also leading a commission in Hollywood against sexual harassment and inequality in the workplace.
In this moment of reckoning in Hollywood and beyond, we honor Anita Hill for her bravery as she fought — and continues to fight — against an often unjust system that seeks to silence women's voices time and time again. But now, that time, indeed, is up.