Why Slovenian wines — which rival the ones from Italy and France — have long been overlooked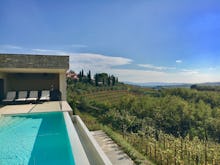 Beloved destinations often have overlooked histories. Mic dives into how the past shapes what travelers see today.
You're heading to a dinner party and stop at the liquor store to pick up some wine. There's a bottle from Italy and a bottle from Slovenia on the shelf — which one do you choose?
"You're likely to pick the Italian one," said Keven Ring, the sommelier at Twin Farms, an all-inclusive hotel in central Vermont. Wine shopping comes down to "branding and misconceptions," said Ring in an interview over Skype. Many shoppers gravitate to brands they know — Veuve Clicquot or Yellow Tail, for example have name recognition because they're owned by conglomerates.
As a result, Slovenian wines have often been overlooked — despite the fact that they rival Italian ones in flavor but have a much better value. Fifty years ago when sales first went global, Western Europe, namely France and Italy, poured money into its crops on the governmental level. But Slovenia (one of Mic's best places to travel in 2018), home to the Brda region, makes a strong case for the industry's underdog.
For centuries, winemaking was a borderless pursuit in Brda, an ideal and rare grape-growing microclimate where the mild Mediterranean air meets the cooler continental Alps. At the end of World War II, however, the Allies came through and drew a line down the quiet vineyards, separating the hilly expanse into two distinct chunks: Yugoslavia on one side and Italy on the other.
The Italians dubbed their portion Collio (Italian for 'hill'), which became a part of the nation's Friuli-Venezia Giulia wine region. The family estates on the Collio side began to ride the wave of mainstream wine consumption, earning respectable amounts of money and acclaim through exports. The situation on the Brda side was not as cheerful.
"No one thinks of Slovenia as a wine growing or producing country even though wine was present before Roman times," said Aleks Simcic, the winemaker at the Brda-based Edi Simcic winery, in an interview over email. Archaeological evidence suggests that winemaking existed in Brda's terraced hills (Brda means "hill" in Slovenian) since at least the fifth century B.C.; the Romans were the ones who brought the practice out of the area and into France and eventually Spain.
"No one thinks of Slovenia as a wine growing or producing country even though wine was present before Roman times."
"When the line was drawn there were no obvious differences on each side of the border, but the gap widened rapidly over the years," said Valerija Simcic, who owns and operates Marjan Simcic winery with her husband, in an interview. "The border suddenly became a real barrier for business between the East and West, and wine exportation by private makers was swiftly discontinued on our side as state cooperatives, or 'kombinate' were enforced, severely restricting the amount of wine produced altogether."
The Slovenian documentary Terra Magica, which came out in 2015, vividly captures the testimonials of Brda's grape growers who suffered through the years of strict border control — many of whom still owned significant amounts of acreage on the Italian side and would have to seek border approval simply to tend to their lands. Some farmers defected to Italy, while the rest were stunted by anti-capitalist governmental mandates.
Americans think of Eastern and Western Europe very differently, and yet when you're standing on the border, it's essentially impossible to tell the difference.
"By the end of the Yugoslav era, the reputation and visibility of the once highly regarded Brda name was lost," said Valerija. That arbitrary border has had a real impact: Americans think of Eastern and Western Europe very differently, and yet when you're standing on the border, it's essentially impossible to tell the difference.
The silver lining of being overshadowed
Although the years of hardship behind the border significantly hampered the development of Slovenia's reputation in the wine industry, the political setback is now proving to be a boon for locals as a passion for purity is rekindled, and our penchant for all things small batch continues to be upwardly trending. By completely missing out on the advent of the modern wine industry over the last 50 years, Slovenia never adulterated its production method with chemicals to satiate the growing international demand. Today, there's no switch or gauge that the Brda winemakers need to reset or recalibrate to return to more organic means of creation. Without the opportunity to make a departure, they're now ironically ahead of the curve.
"Modern wine-making is only 40 to 50 years old, and mainstream conventional wine is exactly like the food industry in general: faster and faster, more and more," said Isabelle Legeron, France's first female master of wine and the founder of Raw Wine in an interview over the phone. She's championing a movement toward more transparency in the wine-making process and a return to tradition. "It's about creating a product with very little intervention — it's a real craft and proper artisanal work."
In addition to being the newfound paradigm of organic and biodynamic grape growing, Brda is also one of the strongest producers of "orange wine" or, more appropriately, "skin-contact wine" — white wine using a red wine method. Letting the skin marinate with the mashed grapes "brings out more of the perfumes and texture," said Legeron, who maintains that Brda is producing world-class wines in this genre.
Big things are in store for Brda's wines — bottles from Marjan Simcic and Edi Simcic are already garnering top scores and international praise among experts. "Even though we're becoming present in the best restaurants on the planet, we're still not in the educational books or coursework," said Aleks — the wines are popping up in restaurants from ABC Kitchen to French Laundry. And there's added value, too. While Slovenia wines are competitively priced with Italian wines, you're likely to get a much better $20 bottle of Slovenian wine than a $20 Italian one.