Era Bell Thompson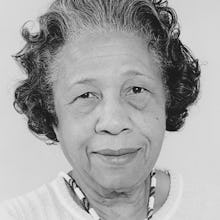 This article is a part of the Black Monuments Project, which imagines a world that celebrates Black heroes in 54 U.S. states and territories.
Era Bell Thompson was an accomplished author, magazine editor and journalist whose work spanned numerous datelines. Thompson lived in different regions and traveled throughout her life, which influenced her ability to write about life within and outside of the black diaspora.
Thompson was born on Aug. 10, 1906, in Des Moines, Iowa. When she was a child, her family moved to live on a farm in Driscoll, North Dakota. In 1925, Thompson began studying journalism at the University of North Dakota. She dropped out, but then picked up her studies again and received her bachelor's degree from Morningside College in Sioux City, Iowa.
Because of the small population of black Americans in North Dakota, Thompson did not grasp the plight of black life in America until moving to Chicago. She worked at a magazine reviewing books by black authors and became especially intrigued by W.E.B. Du Bois' The Dark Princess, which explores the beauty of people of color in and outside of America. Thompson later attended Northwestern University for postgraduate studies and edited a humor paper called Giggle Sheet.
In 1946, Thompson's autobiography, American Daughter, was published, about growing up as black girl on a small farm in North Dakota. In 1947, she became an editor at the Negro Digest, John H. Johnson's first magazine, where she wrote a notable piece called "Girl Gangs in Harlem." That same year, Thompson moved to Johnson's main publication, Ebony, as an associate editor and became co-managing editor in 1951. During her time at Ebony, she wrote a piece called "What Weaker Sex?" about gender inequality. In the article, she highlights the accomplishments of black women of her time, including Constance Baker Motley, who is also honored on the Black Monuments Project, who had recently become the borough president of Manhattan in New York.
In 1954, Thompson's book, Africa, Land of My Fathers, came out, based on her travels through at least a dozen African countries. In 1964, Thompson began as international editor of Ebony. She reported from various places including South Africa, Australia, India and the South Pacific islands.
Thompson died Dec. 29, 1986, at 80 years old. For sharing stories about black life in North Dakota, and other locales across the country, we honor Era Bell Thompson today.