Trump and the Republicans are employing "mob lawyer" tactics to undermine Mueller probe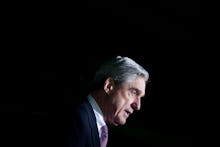 Attacks by President Donald Trump and his Republican allies on special counsel Robert Mueller's credibility are "nonsense" meant to "distract and mislead the public away from the legal facts," according to one former federal prosecutor.
"I see the 'attacks' on the Mueller investigation as political, not legal," attorney Patrick Cotter said in an email Friday. "In that sense, I see them as illegitimate."
Cotter, who served as a trial prosecutor in the federal case against John Gotti and the Gambino crime family in the 1990s, said Trump and the Republicans are using the "same tactics" mob lawyers used to attempt to undermine investigations into organized crime.
"These attacks are a tactic used when you are unable to raise legal objections," Cotter said. "It is not new."
Trump has long claimed the investigation into his presidential campaign's ties to Russia — and into the possibility he attempted to obstruct the probe — amounted to a politically motivated "witch hunt."
Republicans, who had initially vowed to protect Mueller, have grown increasingly hostile toward the special counsel's inquest since it was revealed he dismissed an agent over anti-Trump text messages the agent sent to a colleague.
Republicans on the House Judiciary Committee on Wednesday expressed support for the White House's call for an investigation into Mueller's team, and several others on the right called for Mueller's probe to be shut down entirely.
Peter Strzok, who was booted from Mueller's team over the summer, came under fire recently over numerous texts he sent to a colleague named Lisa Page, with whom he was reportedly having an affair.
The Department of Justice released the texts to members of Congress and some media outlets on Tuesday, despite an ongoing investigation by the inspector general. In their conversations, the two FBI employees blasted Trump, whom they described as an "idiot" and a "menace."
The president and his allies have said the texts are proof Mueller's team is biased against Trump's administration. But they fail to mention that Strzok and Page also expressed disapproval of a number of figures on the left, including Sen. Bernie Sanders (I-Vt.) and Chelsea Clinton, the daughter of Democratic presidential candidate Hillary Clinton.
"They didn't like Trump. That is very clear," the Wall Street Journal's Del Quentin Wilber, who reviewed all the available texts, noted on Twitter. "But they didn't like LOTS of people ... They didn't seem guided as much by partisanship as by what they perceived [as] competence."
In a Dec. 7 hearing before the House Judiciary Committee, FBI director Christopher Wray defended Mueller's probe against Republican criticisms along with the reputation of his bureau, which Trump recently said is in "tatters."
On Wednesday, Deputy Attorney General Rod Rosenstein testified before the same committee that Mueller acted appropriately in dismissing Strzok and that the special counsel has not done anything to justify being terminated.
Republicans, though, continue to suggest the investigation is tainted by bias.
"I think the public trust in this whole thing is gone," Rep. Jim Jordan (R-Ohio) said in a furious line of questioning against Rosenstein Wednesday.
But according to Cotter, there has been no evidence to suggest any of Mueller's prosecutors took actions that appeared politically motivated or biased.
As such, Cotter said, the current wave of attacks are "nonsensical."
"To suggest that the investigators have to act and feel like a robot or computer is to insist on the impossible," Cotter said. "If having a negative opinion about someone you are investigating were a disqualifier, no one could ever be investigated or prosecuted."
The apparent attempts to undermine Mueller's team comes as his investigation gets closer and closer to the president.
In October, Mueller indicted former campaign manager Paul Manafort and his associate, Rick Gates, and secured a guilty plea from former foreign policy adviser George Papadopoulos.
Earlier in December, he flipped former national security adviser Michael Flynn, who admitted he was cooperating with the special counsel after pleading guilty to a charge of lying to FBI agents about his contacts with Russia.
Trump initially said he was "very happy" after Flynn's guilty plea, but later complained about a "rigged system" or "double standard" that "destroyed" the retired general's life but allowed Clinton to walk free after her email scandal in 2016.
Trump again attacked the FBI on Friday, shortly before delivering an address at the bureau's National Academy.
"It's a shame what's happened with the FBI," Trump told reporters on his way to the speech, in which he did not reference any of his criticisms of the bureau.
Cotter said such criticisms could be an attempt to undermine the entire investigation and possibly even to "influence future jurors."
But, he said, he believes Mueller's probe will survive the attacks.
"Mob lawyers for years raised the same sorts of claims," Cotter said. "It did not work for the Mafia, and I suspect it won't work now."