"Must watch" video shows Trump judicial nominee stumbling on basic legal questions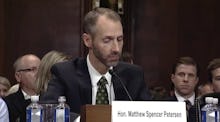 Matthew Petersen, one of President Donald Trump's nominees to serve on the U.S. District Court for the District of Columbia, finds his nomination in jeopardy after a video from his confirmation hearing showing him stumbling over basic legal questions went viral.
In the video, Sen. John Kennedy (R-La.) asks Petersen basic questions about his legal experience, including whether he's ever tried a case, argued motions or taken depositions in federal or state cases.
Petersen answered "no" to almost every question, casting doubt that he could effectively serve as a federal judge.
The video went viral after Sen. Sheldon Whitehouse (D-R.I.) tweeted it Thursday night.
"MUST WATCH," Whitehouse wrote. "Republican @SenJohnKennedy asks one of @realDonaldTrump's U.S. District judge nominees basic questions of law [and] he can't answer a single one. Hoo-boy."
The White House withdrew two of Trump's other federal judge nominees on Wednesday after they faced similar criticism about their experience and histories of controversial comments.
One of the withdrawn nominees, Brett Talley, had also never tried a case.
The other, Jeff Mateer, had made a number of offensive comments over the years, including calling transgender children "part of Satan's plan" in a 2015 speech.
Still, Senate Republicans are confirming Trump's judicial nominees at breakneck speed — effectively reshaping the federal courts.
The Senate confirmed 12 federal circuit court judges in Trump's first year in office, which Republicans have said is "the most in a president's first year in office since the creation of circuit courts in 1891."