New Dustin Hoffman accuser says actor exposed himself to her when she was 16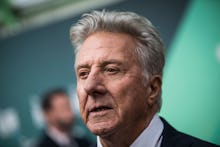 Three more women are accusing actor Dustin Hoffman of sexual misconduct, according to a report published by Variety on Thursday, including one woman who said that Hoffman exposed himself to her in a hotel room when she was 16.
Cori Thomas was a high school classmate of Hoffman's daughter in 1980 when she met Hoffman for the first time, she told Variety. She described spending a day with Hoffman and his daughter Karina. "This was at first one of the greatest days of my life," she told the outlet. "One of my idols was spending time with me and talking with me respectfully."
At the end of the day, Thomas said, Hoffman invited her back to his hotel room, where the two wound up alone, she said. Then, according to Thomas, Hoffman "came out of the bathroom with a towel at first wrapped around him, which he dropped. ... He was standing there naked. I think I almost collapsed, actually. It was the first time I had ever seen a naked man. I was mortified. I didn't know what to do."
Thomas said that Hoffman repeatedly said to her, "'I'm naked. Do you want to see?'" She said that she pretended not to hear him, and that she was able to leave when her mother arrived downstairs to pick her up.
"I was humiliated. My mother always had some instinct that something untoward had happened. She kept asking me, and I was so mortified, I never said anything," Thomas told Variety. She said she didn't tell anyone about the alleged incident for seven years, when she told a relative and several friends.
Melissa Kester also described an alleged incident with Hoffman to Variety, saying that she met Hoffman several times when she was living in Los Angeles, dating a man who was working on music for Hoffman's 1987 film Ishtar.
On her third visit to the studio where Hoffman was recording vocals for the film, she said that Hoffman asked that she come into the recording booth with him.
"He may have been being flirtatious, but it wasn't to the point of being obscene, because my boyfriend's there," Kester said. "Then they get ready to do another take. I'm standing there, and it's kind of a small room, and he grabs me, so we're both facing out so we're both facing the people in the studio."
Kester said the moment was "a little weird" but felt like "a joke," until Hoffman allegedly assaulted her. "And as he's doing that, he literally just stuck his fingers down my pants," Kester told Variety. "He put his fingers inside me. And the thing I feel most bad about is I didn't know what to do. I just stood there. I just froze in the situation like 'Oh my god, what is happening?' It's shocking when that happens to you."
She said she "ran out of there" and cried in a bathroom. She also said that Hoffman repeatedly tried to contact her after the incident, and the third time he called her she allegedly told him, "'You have to stop calling me. Please don't call me.'"
A third women, who chose to remain anonymous, described allegations against Hoffman to Variety that also occurred while Hoffman was working on the film Ishtar. She said she was 22 at the time, and had a nonspeaking part in the film. She and Hoffman allegedly rode in the back of his station wagon together after a wrap party. During the ride, she alleged, he forced his hands down her pants and assaulted her.
"There were people there," she said. "What are they going to think of me, that I'm a whore, if a say something? What would I say? He's Dustin Hoffman." The accuser said that later that same day, they had a sexual encounter at Hoffman's home. She described her state of mind to Variety as "a kind of fugue state."
These latest allegations come days after comedian John Oliver questioned Hoffman about other allegations of misconduct at a panel discussion in New York City, during which Hoffman said he had never met one of his alleged victims.
Three women have previously publicly accused Hoffman of sexual assault — including Anna Graham Hunter, who detailed allegations against Hoffman in the Hollywood Reporter, alleging that the actor made explicit remarks to her and touched her inappropriately in 1985, when she was 17.